A 14-year-old boy died yesterday after he was shot by a stray bullet near his home at Vive la Force, West Bank Demerara and the community said his death may have been avoided if police had acted on numerous reports of reckless shooting into the area from boats on the Demerara River.
The teen, Ryan Persaud, died while being given emergency care at the West Demerara Regional Hospital (WDRH), where his parents and pastor rushed him after he was shot in the left region of his back, just below his shoulder blade. "He was catching bird and he put the sling shot over his shoulder and tell we he coming to catch shrimp… then he run over shouting, 'a yuh come see something sting meh in meh back.' But he collapsed before we meet to he and start bleeding from he mouth," his friend, Feroze Hussein, recounted to Stabroek News.
Residents of the area blasted the Wales Police Station, saying that over the past two years they have made numerous complaints that periodically there would be rapid gunfire coming from boats that are either passing or moored at the back of the village on the Demerara River. They said it seems that the vessels belong to businessmen who would either be partying onboard and would indiscriminately fire shots or persons practicing their shooting with high-calibre guns.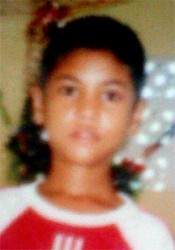 One female resident, who did not want to give her name, said her husband, a fisherman, has told her of seeing men on ships on the river with high-powered assault rifles. "The men get guns that rest on stands and they have guns with magazines on their shoulders, not no two cents guns. Is big gun… He frighten fuh tell the police because nothing won't happen and then again something might happen to he," she said.
Resident James Munroe said two weeks ago he had walked to the police station and reported that the shooting had started again. …Dem nah do nothing. One tell me, 'We gat it covered.' Round two o' clock today [yesterday], I left going there again because meh son hear this shooting and I say they ain't go do nothing till somebody dead… it ain't two hour since I seh suh a man pickney dead," he added.
Police at the Wales Police Station directed this newspaper's questions to the force's Public Relations Department. However, numerous calls both to the office and mobile number of Public Relations Officer Ivelaw Whittaker proved futile. Calls also to acting Commissioner of Police Leroy Brumell also went unanswered.
The police did issue a press release saying that Persaud was standing on the roadway when he was struck to his back by a bullet. It noted that he was taken to the WDRH, where he was pronounced dead. It also said investigations are in progress.
Persaud's mother Debra was inconsolable when she spoke of the sudden demise of the second of her four children. His father, Vishnu Persaud, informed that it was only two weeks ago that his home was pierced by a bullet, which came from a boat on the Demerara River. "Over two year this going on. You would hear this shooting and it sound so near… last two week, she [his wife] been a wash wares and the firing start. Next thing, we hear something hit the house. When we check, it had a hole and we know was a bullet," he said.
Joseph Persaud, pastor of the village church, said that he believes the Commissioner of Police should visit the village to hear firsthand how residents felt about the service provided by the Wales Police Station. He said that over time there have been many incidents that have been ignored by the police. "We are asking for the Commissioner to visit us to know what really going on in this part… There have been several incidents and the police just continue to ignore this community… We have about 1,500 persons here and we think maybe we should get our own police station," he said.
Members of the community were united as they came out in their numbers, all saying that ranks of the Wales Police Station should be investigated for their slothful attitudes.
Meanwhile, Vishnu Persaud said that his son, who attended the  Patentia Secondary School and would have been starting at the Third Form level, stayed home yesterday because he believed that he would have been made to assist in cleaning up his new class for the term's  commencement.
Friends described the teen as easygoing, while noting that he loved birds and playing with his friends.
His body, which his father says still has the slug lodged in it, is at the Ezekiel Funeral Parlour awaiting an autopsy, which is scheduled to be performed tomorrow.
Around the Web