Investigators questioned several persons and swabbed their hands for gunpowder residue before releasing them on station bail yesterday as police try to find the person responsible for Monday's fatal shooting of teenager Ryan Persaud.
The 14-year-old Vive la Force, West Bank Demerara resident died on Monday afternoon after he was shot by a stray bullet near his home and the community said his death may have been avoided if police had acted on numerous reports of reckless shooting into the area from boats on the Demerara River.
Police Crime Chief Seelall Persaud told Stabroek News that he was unsure of how many persons were interviewed and had their hands swabbed but said that they were "from both sides of the river."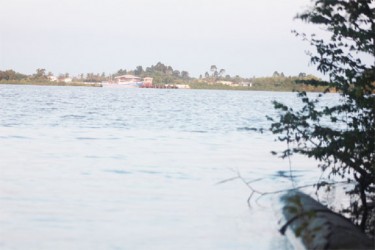 A source told Stabroek News that among those questioned and released on bail was the son of a prominent city businessman.
The source said that the businessman owns a vessel that was moored in the Demerara River at the time of the shooting and his business is known to have security personnel armed with high- powered guns.
A relative of the dead young man informed that the family was anxiously awaiting the autopsy, which will be performed today, to determine the type of weapon that fired the bullet. However, the relative said that they found it perplexing that when the young man was taken to the hospital his body only bore a single hole in the region of his lower back, while yesterday when they went to view the corpse they noticed three holes one in his back and two in his chest.
The teen died while being given emergency care at the West Demerara Regional Hospital (WDRH), where his parents and pastor rushed him after he was shot in the left region of his back, just below his shoulder blade.
Residents of the area blasted the Wales Police Station, saying that over the past two years they have made numerous complaints that periodically there would be rapid gunfire coming from boats that are either passing or moored at the back of the village on the Demerara River. They said it seems that the vessels belong to businessmen who would either be partying onboard and would indiscriminately fire shots or persons practising their shooting with high-calibre guns.
One female resident, who did not want to give her name, said her husband, a fisherman, has told her of seeing men on ships on the river with high-powered assault rifles. The boy's father, Vishnu Persaud, also informed that it was only two weeks ago that his home was pierced by a bullet, which came from a boat on the Demerara River. "Over two year this going on. You would hear this shooting and it sound so near… last two week, she [his wife] been a wash wares and the firing start. Next thing, we hear something hit the house. When we check, it had a hole and we know was a bullet," he said.
Resident James Munroe said two weeks ago he had walked to the police station and reported that the shooting had started again. "…Dem nah do nothing. One tell me, 'We gat it covered.' Round two o' clock today [yesterday], I left going there again because meh son hear this shooting and I say they ain't go do nothing till somebody dead… it ain't two hour since I seh suh a man pickney dead," he added.
Yesterday as they visited Persaud's home, residents vented their frustration, saying that although they have voiced their concerns, it seems that nothing will come of the matter. "We are hearing all kinda #%$ that the bullet can't shoot from so far and all kinda thing… nobody here nah get gun nobody here nah guh shoot Vishnu son when he a play …the police tek we fuh fool or wha?" one resident said.
Around the Web