A Good Hope, East Coast Demerara mother of six was yesterday stabbed multiple times about her body  by her reputed husband of 17 years shortly after she called police on him.
Yankumarie Balkaran, 31-years-old, of, Lot 3 Phase Two, Good Hope, was stabbed to her head and hands and was in a stable condition at the Georgetown Hospital up to press time. Her sister was also lashed to her hand with a piece of wood by the man as she tried to protect her sibling.
The man, who is reportedly still on the run, attacked the woman at her sister's home, a short distance away from their home, with a knife.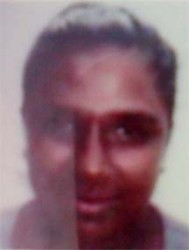 Stabroek News was unable to speak to Balkaran but a relative said that the man stabbed Balkaran around 1 pm yesterday shortly after she brought the police on him. The relative related to this newspaper that on Monday night he was at a neighbour's house across the street when he heard Balkaran and her husband  arguing.
The relative also stated that yesterday morning,  Balkaran brought the police on her husband but he could not say what transpired. The relative however noted that after the police left, Balkaran went to her sister's home a few blocks away.  After Balkaran left, the alleged attacker went inside of his home and collected a knife and went after her. The relative said that the man was in the habit of beating Balkaran and she would normally bring the police on him.
Balkaran's brother-in-law said that the incident took place at his home but he was not there. He said that he was working at a neighbour's house when he heard his wife screaming for him. The man stated that when he looked he saw his wife on the street with a cutlass in her hands.
The woman's brother-in-law related that after she was stabbed, her sister tried to save her and she too was attacked by the man. As a result, she picked up a cutlass and chased her sister's attacker who managed to escape.
The brother-in-law also stated that his sister-in-law's husband was recently incarcerated for about a month for abusing her. He added that after the man came out of prison he was initially behaving well but he began to abuse the woman shortly after.
Around the Web