Students from Mahaicony Creek who attend school on the coast benefitted from an additional boat and engine last Saturday after the previous one was found to be inadequate.
The aluminum boat, fitted with a 50-hp Tohatsu engine would be used for transporting children from "as far as First Savannah to the Stelling at Wash Clothes" and back on school days.
This, according to an official from the Regional Democratic Council of Region Five, would assist greatly and obviate the need for the other boat to make more trips. The two boats are catering for a total of 43 students who attend secondary schools at Mahaicony, Bygeval, Belladrum, Novar and Hope as well as the Mahaicony Technical and Vocational Training Centre.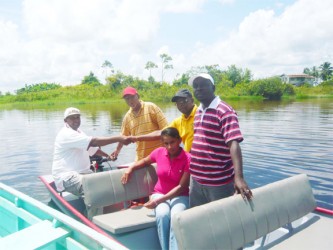 Regional chairman, Bindrabhan Bisnauth along with his deputy, Rion Peters; Regional Education Officer, Owen Pollard and Regional Information Officer, Sandie Ross-Hendricks made the presentation on Saturday.
That was following a meeting with residents at the Gordon Table Primary School. Parents expressed appreciation for the additional boat and engine and thanked the administration for making their children's lives easier.
Around the Web