Sirmattie Ramnaress, the Diamond, East Bank Demerara businesswoman who was murdered last week, died as a result of a ruptured spleen and brain haemorrhaging, her post mortem examination stated.
The result confirms that she had been brutally beaten  and would lend credence to the view that Ramnaress was targeted for murder as opposed to robbery.
The post-mortem was done yesterday by Dr Nehaul Singh. Ramnaress was found dead around 10 am on Saturday with injuries to her head. Her body was in the garage of her home.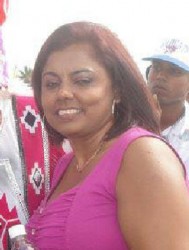 While petrol was strewn all over her house, it was the bond at the back of the yard that was set alight and destroyed.  She was discovered after the fire service had been called about a blaze at the house.
According to a police press release, her home was ransacked and drenched with a flammable liquid and a storage bond at the rear of the building was destroyed by fire. Her car was also missing and police had said that it was found abandoned on the public road at Liliendaal, East Coast Demerara the same day.
Around the Web