A 23-year-old West La Penitence resident was yesterday morning stabbed to death on North Road, after an argument with another man. He was pronounced dead on arrival at the Georgetown Public Hospital.
Jamal Fernandes called 'GaGa' of Lot 14 West La Penitence was stabbed in his abdomen several times after an argument with another man as he was making his way from an adult night spot.
Contacted, Crime Chief Seelall Persaud said that a suspect has been detained. Persaud said that according to reports, Fernandes and another man had an argument around 0330 hours during which Fernandes was stabbed in the abdomen.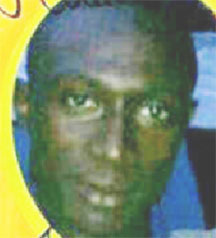 The man's aunt said that she got the news of her nephew's demise around 0400 hrs and that is when they rushed down to the hospital and their worst fears were confirmed.
A relative of the deceased man said that he saw him earlier in the night and he told him that he was on his way to Baroombar. The man said that this was the last time he heard from him.
Meanwhile, a source said that the man was coming out of Baroombar when a taxi driver was passing and they had an exchange of words. The source added that the taxi driver drove up to the traffic light at the corner of Camp Street and North Road and another argument ensued between the two. Fernandes was in the company of two females when the man came out of the car and stabbed him to his abdomen.
Fernandes, a clothes vendor and former player of the Pele football team leaves to mourn his reputed wife and daughter.
Around the Web