The Ministry of Health yesterday unveiled the National Plan for Infection Prevention and Control 2012-2016 and the Infection Control Manual.
The Government Informa-tion Agency said that Repre-sentative of the Pan American Health Organisation/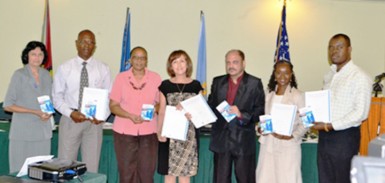 World Health Organisation (PAHO/ WHO), Dr. Rosalinda Hernandez recalled that in 2009 efforts were started  to address infection control at the level of the hospital.
Charge d' Affaires, US Embassy Georgetown, Bryan D. Hunt said that the two documents represent an opportunity for the Health Ministry and its partners to continue to prevent the scourge of infections.
He said prevention remains the key challenge of the HIV/AIDS epidemic globally and it is also a major priority for the (US) President's Emergency Plan For AIDS Relief (PEPFAR).  He said that while PEPFAR has its role, "Guyana's Health Ministry should have full ownership of the project so as to ensure sustainability", GINA reported. Hunt added that having the National Plan for Infection Prevention and Control places Guyana in a very exclusive club of countries.
CEO, GPHC, Michael Khan said that he feels satisfied that the hospital is at a place where a lot of deficiencies that were not addressed completely in the past could now be rectified, GINA said. He said he hoped that the manual would be distributed to all health facilities in Guyana, and that  most importantly the health care professionals put the theory into practice.
GINA said that the GPHC's Infection Control Manual seeks to provide general information and guidelines on infection control by addressing standard precautions, hand hygiene, isolation precautions, waste management and cleaning, disinfecting and sterilisation.
Dr. Julian Amsterdam, Director of Standards and Technical Services explained that its goal is to reduce transmission of  Health Associated Infections (HAI), GINA said.
Around the Web