Nigel Hughes yesterday announced that he will remain Chairman of the Alliance for Change (AFC) after withdrawing his resignation due to what he said was public confidence in him and the support of the party.
"After a period of reflection and after consultation… they have all expressed the view that my decision to leave politics and resign from the position of Chairman of the AFC should be reconsidered and they have urged me to reconsider that decision… as a consequence of those deliberations….  I have decided to withdraw my resignation as Chairman of the Alliance for Change…," Hughes told a press conference at the Sidewalk Café.
On August 6, Hughes announced that he had offered his resignation from the chairmanship in the wake of a Kaieteur News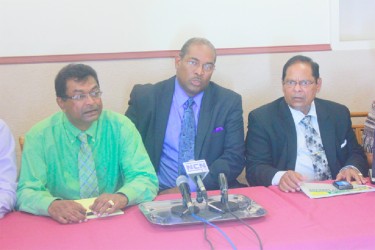 report highlighting the fact that he was Company Secretary of the Amaila Falls Hydropower Inc, the company set up to pilot the project. His wife, AFC MP Cathy Hughes is also the public relations consultant for the project's developer, Sithe Global.
The party shortly after released a statement informing that it would not accept Hughes' resignation. "On behalf of the Management Committee of the Party, [General Secretary of the AFC David Patterson] advised Mr. Hughes that his resignation was not accepted and that the Party continues to repose full and complete confidence in him both as member and Chairman," the party statement had said.
However, in a subsequent response to a party supporter Hughes signalled that his political career was over. "My time in politics has been brief and is now over," said Hughes in a Facebook post, responding to a statement that he needed to apologise for the fiasco after it was revealed that he was Company Secretary for the Amaila Falls Hydropower Inc (AFHI) while also holding the post of AFC chairman.
Yesterday, he said that he had remained a member of the party although he had tendered his resignation. He gave an extensive list of persons, including elders both locally and overseas, persons from the Diaspora and the man-in-the-street, who pleaded with him to stay, hence his decision. He also explained that had not there been overwhelming support for him to stay in the position, especially by the "man-in-the-street," he would not have stayed on.
AFC Leader Khemraj Ramjattan informed that the party's concretised decision not to let Hughes go came after deliberations at its August 31st National Executive Meeting, which was held in the city. He said the National Executive deliberated on the very many issues surrounding the offer of resignation by Hughes. "At that National Executive Meeting, the unanimous decision was that the committee will not accept the resignation and consequent upon that Mr. Nigel Hughes withdrew his offer of resignation. He remains thus Chairman of the Alliance For Change," Ramjattan said.
In order to avoid a recurrence, Ramjattan said that his party formulated a 10-point code of conduct to guide members.
Questioned on if he remained the AFHI Company Secretary, Hughes answered in the affirmative, saying that his contractual agreement, as it pertains to that role, was being discussed between him and the company. He also informed that he has asked Sithe Global to grant him permission to reveal whether or not he had been paid and is awaiting a response as he is bound by attorney/client privilege.
He detailed that he and his law firm were approached in 2009 to register AFHI as a subsidiary of Sithe Global and in so doing he agreed to be named Company Secretary to facilitate local legal obligations of the company.
When he became AFC Chairman in 2012, he said that he informed the AFC of his relationship with the company and recused himself from any discussion on the hydropower project and at no time did he participate in talks involving the Inter-American Development Bank (IDB), China Development Bank, Sithe Global and the Guyana government. "I was not party to those discussions. I was not invited to offer advice on those discussions. My role as Company Secretary was literally for the purposes of ensuring that the company complied with its local regulations," he said.
He yesterday once again apologised to the public. "I offer my profuse apology to the public… who expressed great disappointment that I had found myself in a position of conflict," he said.
Around the Web