Police today issued a wanted bulletin for Carolan Lynch for questioning in relation to the murder of her husband, cambio owner Farouk Razack.
The bulletin came following reports that Lynch, a former beauty queen, had been working for a local tour operator unbeknownst to police. Attempts had been made by the police to apprehend her but to no avail.
Police say that anyone with information that may lead to the arrest of Lynch is asked to contact the police on telephone numbers 225-6411, 225-2227, 226-7065, 227-1149, 911 or the nearest police station. Her last known address was given as  Lot 106 Ireng Place, Bel Air Park.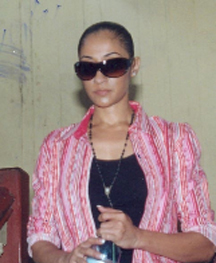 In November 2010, Acting Chief Magistrate Priya Sewnarine-Beharry issued a warrant for Lynch's arrest after being told by the police that Lynch had been formally served notice of the charge but had not appeared.
Lynch has been charged with murdering her Swiss House Cambio dealer husband, Razac.
When the matter was called for the third time on November 10, 2010  at the Georgetown Magistrate's Court she was still absent and so the charge could not be read.
Lynch had been previously charged with Razac's murder in 2008, Magistrate Gordon Gilhuys had however ruled that no prima facie case was made against her and the matter was subsequently discharged. However, police moved to re-charge her
She had been charged in May 2007 after Razac was found dead on the floor of their Eping Avenue, Bel Air home.
Around the Web