With an October deadline approaching, contractors working on 20 road bridges in Regions Five and Six were criticised yesterday for shoddy work and Minister Juan Edghill warned that penalty clauses will be applied where necessary.
Edghill, Minister in the Ministry of Finance, paid an impromptu visit with the media in tow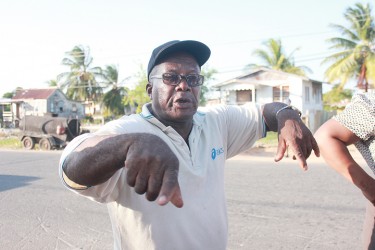 to the IDB-funded project and heard complaints from residents and workers.
"I think the contractors have to start doing exactly as instructed because these works have to be finished by the deadline… they had enough time … if not  the penalty clauses  must be strictly adhered to…they must know,"  he said, speaking at the end of the inspections.
The minister spearheaded a team, which included the Chairmen of Regions Five and Six and personnel from his ministry, in the inspection of bridges from Canje in Berbice and all along the East Coast of Demerara.
The construction of the bridges falls under Phase 2 of a $4,981,500,000 Inter-American Development Bank (IDB) loan given for the completion of 20 structures from Timehri to Berbice.
In this phase, two companies were awarded contracts totaling around $1 billion for the construction of the structures. Kares Construction received a contract sum for $545,488,083 while V Dalip Engineering was awarded a contract for $554,171,990.
While assurances were given in a number of cases that works would be completed in the coming weeks, in other cases issues were raised about the ready availability of stone and steel and other construction material.
At the Belladrum Bridge, officials were told by residents that Kares Construction deserved an "F-Grade" for the poor work done since a culvert it constructed caused the sinking of the public road and which was now visibly uneven in a number of areas. Reporters and officials, including the Regional Chairman witnessed vehicles dropping hard on the bridge or slowing down to avoid damage.
Belladrum resident, Harold George vociferously told Edghill and Region Five Chairman, Bindrabhan Bisnauth that the bridge work was shoddy.
George also complained that a coffer dam (a temporary enclosure) has remained at the site for more than one year now, resulting in poor drainage in the area and much stress to residents when the rainy season arrives.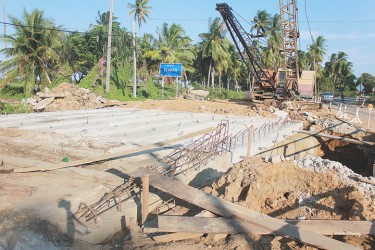 "Man, all you get from these people is promises. We fed up and disgust because we ain't getting no action…that structure they put there it too deep … they put it low and the road sink and they aint building back up the road," he said.
"Imagine there isn't even a sign to say 'Trap Ahead' so motorists have no warning…they coming and then suddenly—braps—they fall into that part and this is where most accidents happen. Good thing nobody ain't dead here yet", he added.
As he complained to reporters on the road, several motorists passing also expressed their disgust. "Eh eh man, y'all tell he is time they do something bout this dam piece hay …too long, way too long," the driver of minibus BJJ 7806 shouted.
Reacting, Edghill said the Public Works Ministry would be advised about the problems there. He pointed out that he too had been a victim of "the drop in the road"  and welcomed the criticisms by George, saying observations like those helped government to ensure quality work is ultimately delivered to Guyanese.
"It is a matter that must be dealt with urgency …I have already told them and it will be dealt with first thing Monday morning," he asserted.
At the Number 2/ Number 3 Village bridge, Stabroek News was told that V. Dalip had subcontracted out the works to a private contractor at a cost of $2.5M. Some of the workers at that site lamented that their work was stalled because of the unavailability of materials from the main contractor. "We can finish the work but you don't get all the material you need from Dalip and it setting my work back," one worker said.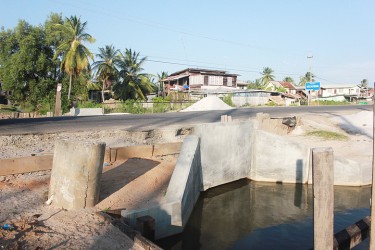 A resident of that village explained that the large construction firms bid on most of the projects and then sub contracts them out to "the small contractor". He said that while the persons contracted to do the actual works are capable they do not have the cash and machinery requirements needed to bid on the tenders. "If they are serious about sharing the contracts and not getting only the big boys eating up everything then they should put a system that help we … that make it easy fuh we go (to the) bank and get a loan and do de same work and people in de villages them can benefit," he said.
At Experiment Village, when the team arrived, workers were sitting and chatting. When questioned by Edghill about why they were not working, they first said that they were waiting on a machine that was on its way from Number 5 Village. Edghill informed them that it was from that direction that he had travelled and there was no machine seen on the way. The workmen then changed their story saying they needed stone. Nonetheless they gave the assurance that the works will be finished by the deadline.
At the Kingelly/Brahan Bridge, where work seemed scaled back,  a seemingly unmoved worker nonchalantly said "I can't give an answer" when he was asked when that bridge would be completed. That bridge construction was a contract given to Kares Engineering.
Edghill said he intends to get value for money on the contracts awarded and will soon make another impromptu visit.
Around the Web