Biker Kirk Davis was shot 16 times, an indication of murderous intent, but up to press time last evening there was still no word from the police as to whether the suspect, once a close friend, had been captured.
According to the information out of the Guyana Police Force Public Relations Office, the Eccles,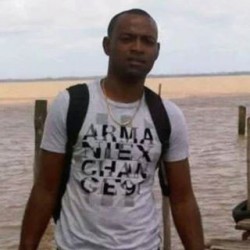 East Bank Demerara resident sustained multiple gunshot wounds. This is according to a post-mortem examination conducted by government pathologist Dr Nehaul Singh.
Persons close to Davis expressed surprise that the suspect, a Water Street businessman, is still at large. The businessman's wife was wounded during the incident and remains a patient under guard at a private city hospital. The woman has reportedly denied being at the scene of the shooting and told investigators that she was shot at another location. She had admitted though that the suspect in the shooting was her husband.
Though police have not pronounced on the motive, the dead man's friends insist that it was over allegations that he was involved with the suspect's wife. Stabroek News was told that in the days leading up to the shooting Davis had become uneasy because of the allegations that were being made.
A source close to the man said that had Davis known that his life was at risk he would not have entered the car. This newspaper was told that the two men were close as they would often go out together. According to one source, Davis trusted the man and would have gone to give his side in attempt at clearing his name.
This newspaper was also told that it was following the deaths of his mother and brother, that the suspect became insecure and started accusing his wife.
Persons in the area recalled that a silver-coloured Premio car bearing a PRR number plate pulled up in front of the house and Davis entered it. This newspaper was told that at the time Davis was entertaining two friends but left them to go and sort out the issue with the suspect.
A source, who did not want to be identified, said the man discharged rounds until his weapon was empty. The badly wounded Davis was then pulled out of the vehicle and the suspect sped off in it.
The source stressed that he could identify the suspect as Davis and the suspect were very close and were often in each other's company, though the man was not a frequent visitor to Davis's home. He said the suspect was "chubby" and was dressed in a big pants and a t-shirt on the night in question. The shooting occurred around 21:45 hrs, following which Davis was picked up from his bridge and taken to the Georgetown Public Hospital where he succumbed. Stabroek News was also told that Davis, who lived alone, was the owner of a bike shop and a boutique and brought bikes from Suriname.
Around the Web