Some 20 staff members of the Georgetown Public Hospital (GPH) yesterday successfully completed a "customer service" training programme, aimed at improving patient care at the facility.
In all 150 nurses, doctors, clerks and other staffers of the hospital have been trained in several sessions conducted over a period of 3 months.
GPH Quality Improvement Manager Yolanda Renville said that a system had been implemented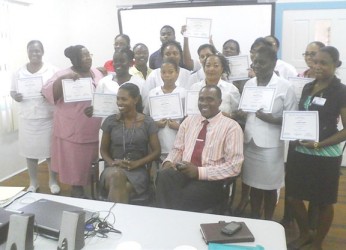 where the customer service performance of the various departments of the hospital is being measured. In addition, she said, members of the public could use the GPH's Complaints Desk to record any dissatisfaction they might have with the service provided. Renville said complaints made at the desk would be used in conjunction with the internal system to determine whether any department had issues that needed addressing.
Asked about the public's awareness of the Complaints Desk, she said complaints have been received but she was not sure how knowledgeable the general public was of the availability of this service. She took the opportunity to urge members of the public to start utilizing the complaints desk and added that the hospital is ready and willing to accept their feedback.
Nicholas Corbin, Customer Service (CS) trainer and a tertiary lecturer, conducted that training sessions. He said he strives to provide CS training in a unique manner which deals with the behavioural psychology of people. Corbin said he has investigated why people behave the way they do and has applied the knowledge gained in his training.
He said he has learnt that people treat others the way they see themselves and that it is almost psychologically impossible for people to treat others differently than they see themselves.
When developing a customer friendly approach, Corbin said, it is not what you say but how you say it.
Renville said that the CS training programmes which started on June 11 differs from what was previously offered. She said that she had a hands-on role in these training sessions.
Staff members were very receptive to attending the training sessions, she added.
"I think customer service delivery needs to be at a certain level," Renville said. She added that she decided to facilitate the CS training this year because she had noticed that previously training exercises at GPH were not as effective and since she believes that good CS is important, she decided to ensure that this exercise is a much more effective one.
When Stabroek News spoke to two of the persons who were part of the final batch, they said the trainer was excellent at what he did and that they were very happy to have been a part of such an enlightening programme.
Around the Web