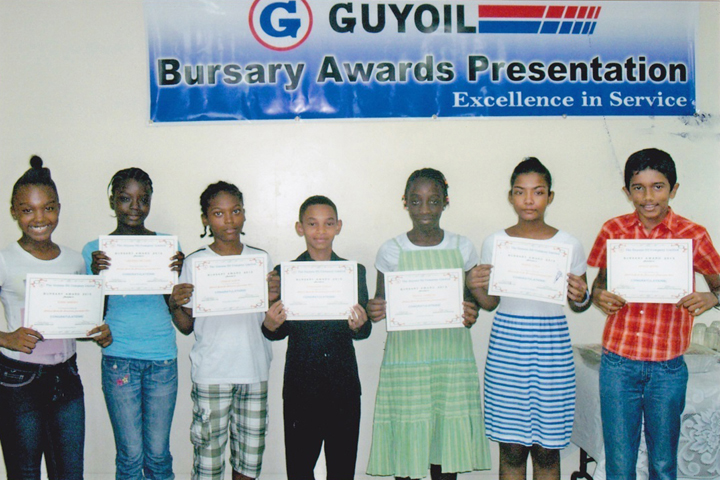 Nine Guyana Oil Company Limited (Guyoil) employees' children, who were successful at the 2013 National Grade Six Assessment, were rewarded when the company recently held its annual presentation of Bursary Awards.
A release from the company said that Human Resources Officer Jean Cumberbatch, in making the presentations,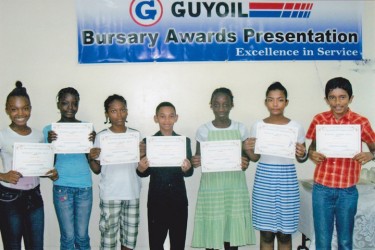 recognised the students' successes after years of hard work and urged them to take their studies seriously and to make use of the opportunity and assistance given to them to pursue their secondary education. She also encouraged them to keep focused while working towards achieving their academic goals.
Parents, who were present at the function, were charged with ensuring that their children attend school regularly, that their school work is examined often, that time is set aside for homework and studies and that they keep in touch with the school teachers.
The 2013 awardees were: Regina Lynch, daughter of Robert Lynch and Gaitree Gangadin, Operations Assistant/Confidential Secretary, Head Office; Kiana Samuels, daughter of Yonetta Samuels, Shift Supervisor, Palmyra Service Station, Berbice; Anoop Muthu, son of Seemamol Muthu, Supervisor, Internal Audit Department, Head Office; Sarafina Williams, daughter of Carlotta Nedd, Cashier, Kitty Service Station; Chavez McIntosh, son of Roslyn Austin, Pump Attendant, Sheriff Street Service Station; Jonathon Jordan, son of Ivor Jordan, Armed Guard, Head Office; Chandanie Khusial, daughter of Khusial, Baton Guard, Head Office; Shemar Aaron, son of Michelle Aaron, Pump Attendant, Kitty Service Station; and Tenisha Johnson, daughter of Melissa Johnson, Pump Attendant, Providence Service Station.
Around the Web