Outgoing Director of the University of Guyana Berbice Campus (UGBC), Professor Daizal Samad has reiterated his call for full autonomy saying that not much can be achieved "if you're bound hand and foot."
Samad, who was set to travel overseas when he spoke with Stabroek News, said the only thing he wants "is to be given the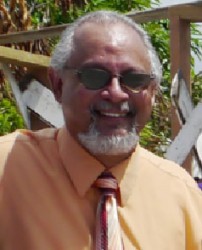 chance to do the work I am meant to do. So if I'm given a chance to return with full autonomy… I'll be back on the plane."
According to him, "I really think it is time for us to get full autonomy from Turkeyen. It is beginning to show now how desperate it is; we have situations where there are no registration being done or not done in a timely manner."
The professor said the UGBC had to abandon several courses and programmes because they did not have the authority to get things done. "You can't ask us to be of service to the people of Berbice and the people of Guyana and then bind us up. It cannot work!" he said.
What he would like is for the institution to eventually be named University of Berbice or Cheddi Jagan University, Samad said. He also stressed the need for government to act in appropriate ways and to recognize that the decision he has reached is logical and reasonable.
During a recent meeting at Cotton Tree, West Berbice, President Donald Ramotar had responded to a question regarding Samad's resignation, saying that "No one is indispensable… We have to find a replacement." He was surprised to learn that the professor had resigned since he was only recently reappointed director of the campus. Ramotar said too that no one pressured Samad to resign.
"The president has been very forthcoming and I thank him for his remarks," Samad said but, he added, the president needs to understand that he has not really given up. "What we're doing here is just telling them [government officials] very simply that they need to act."
Samad said he has worked very closely with the ministers as well as the past and present regional chairman "and it has been good for everyone." However, he feels that no matter how much help you get, not much can be achieved it "if you're bound hand and feet."
He lamented that "Turkeyen doesn't work. Turkeyen is a broken place. We [UGBC] have prospered for the last five years. Take us apart; let us manage our own business… That is when you begin to serve more profoundly and you serve more people."
According to him, "The president used the word indispensable and I understand what he is saying. He is right in general ways. But maybe we need to think in a different kind of way about this. No one person is indispensable and he's correct… but I think that applies to developed nations where there is a lot of talent."
Samad mentioned the "brain drain" in Guyana and noted that "talent is not all over the place so it is appropriate for us to take care of whatever talent we have, especially if the talent is packaged in somebody that has integrity." He said too, "You can't find too many people with integrity and frankly, let me say this for myself, I am incorruptible."
The professor said too, "Maybe we should rethink this idea of indispensability because for me no single person in the Republic of Guyana, no one is dispensable. You can't use them like Kleenex (tissue) and throw them away."
Around the Web