The Guyana Power and Light (GPL) is dealing with upgrading its infrastructure and will take a "technological approach" and later step up efforts to tackle loss reduction, its Chief Executive Officer Bharat Dindyal has said.
At a five-hour public presentation at the Duke Lodge in Kingston yesterday, officials of the electricity utility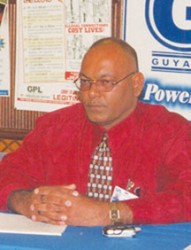 discussed its financial and operational performances for last year in addition to answering questions from the public.
"We are in a huge hole and we are trying to get out of that hole," Dindyal said adding that the utility is just generating power to meet current needs. "We are playing catch up now," he said.
GPL's chief cited the commissioning of the 26-megawatt plant at Vreed-en-Hoop, West Coast Demerara next year as an excellent foundation on which to move forward.
In relation to loss reduction, he said they have to take a technological approach since other methods have not proven successful. Among other things, are plans for the "most advanced metering system in the world" with the first 2,000 meters to be deployed by next year in Georgetown in a pilot project. He said there is a technological solution to the losses faced by the company and it would cost in the tens of millions of US dollars.
Noting that GPL is criticised, Dindyal appealed for the progress made to be seen. The investments made have paid dividends, he said, adding that the utility's five-year plan is withstanding international scrutiny and the company is going places.
Financially, the money collected cannot meet the expenses of the company, he said. "We cannot sustain operations with current fuel prices."
Lack of funding has been contributing to the company not realising its development plans, Senior Divisional Director of Operations and Projects Colin Singh said. He said the Infrastructure Development Project (IDP) up to the end of the second quarter of 2013 was 60% completed. Upon completion of the IDP, slated for later this year, losses are expected to be reduced by 2% Dindyal said.
Hydropower
Alternative sources of power, including the Amaila Falls Hydropower Project were also raised. Dindyal disclosed that a working group has been established and discussions have taken place regarding a 500KV transmission line that would link the Brazilian state of Roraima to Guyana, through to Suriname, French Guiana and back to Brazil with 2,700 MW of power to be produced by hydropower from two sites including at Middle Mazaruni.
Kumar Sharma, Divisional Director of Loss Reduction spoke on the several initiatives that the company will be undertaking to reduce losses. He said that an Inter-American Development Bank (IDB)-funded pilot project will drastically improve the utility's ability to detect cases of people tampering with their meters. He also lamented the less than 4% conviction rate of persons charged with various offences related to electricity, with 96% of the cases pending.
Among the key challenges, he said, was corruption as it relates to collusions between consumers and staff; recruitment of staff particularly as it relates to the paucity of relevant skilled persons in the market; illegal connections; the level of risk as staff are under constant threat of physical harm to life, body and property; and the lack of finance as high fuel prices deplete cash flows affecting adequate investment in loss reduction activities.
The losses suffered by the company as well as the revenues forgone as a result of the non-increase of tariffs were also discussed.
Around the Web