Four persons, including a one-year-old baby, are now critical after one of the wheels of the car they were travelling in flew off and the vehicle toppled several times in an accident in Moruca, Region One yesterday.
According to a witness, the car was reportedly travelling at a fast rate and after one of the wheels flew off,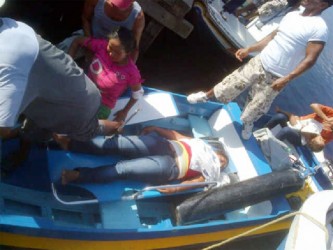 the car turned turtle three times and the baby was thrown out of the vehicle.
The driver of the car, Steve Gildharie who hails from 6 Miles is said to be in a critical condition at the Moruca Hospital along with the other passengers – Karen Daniels, the mother of the baby, and two other women.
The baby was transferred from the Moruca Hospital to the Suddie Hospital, and is currently receiving oxygen.
A relative of Daniels said that she was on her way to visit family members when the accident occurred.
Around the Web