Ryan Persaud, the teenage boy who was killed after he was hit by a stray bullet near his home at Vive La Force, West Bank Demerara was laid to rest yesterday after scores of people came out to view his body for the final time.
It is suspected that persons who were discharging guns wildly on a boat which was moored on the Demerara River were responsible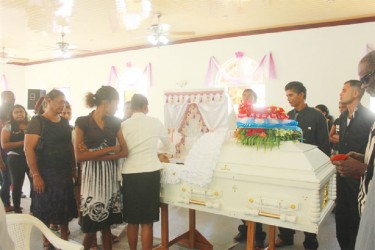 for the child's death but no one has been charged so far.
Police had arrested several persons including a prominent city businessman and swabbed their hands for gunpowder residue but they were later released on bail. Residents had said that the reckless discharge of weapons in that area was prevalent and although they had made several reports to the police, ranks have been very unhelpful.
Only one bullet wound was found on Persaud's body when he was hit but relatives later discovered holes in his chest. Crime Chief Seelall Persaud said that a foreign object was extracted from the body during the autopsy and it will soon be sent for testing.
Around the Web