Minister of Works Robeson Benn said government will continue work on the Amaila Falls Hydropower Project road despite the collapse of the larger hydro project, since discontinuing it mid-step would mean all the investment would go to waste.
He said government is prepared to bear the maintenance cost of the road once completed, so that it would be available should the project receive the breath of life.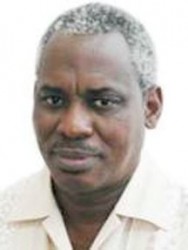 Developer of the hydro project Sithe Global walked away from it three weeks ago, citing a lack of political consensus. Since then the government and opposition have traded accusations as to who was responsible for the death of the US$858 million project. One major financing partner, the Inter-American Development Bank (IDB) has yet to make public a definitive position on the status of the project. The IDB's website up to Wednesday had it listed as "in preparation."
Speaking to this newspaper on Wednesday in relation to the road, Benn said, "We have to secure the investment that we put out there so far. That is the logical thing that I see, from my position."
The Amaila Falls road has been subject to a litany of woes since it was conceived and frontloaded as part of the larger hydro project. At the time, government said it would save itself money from interest payments if it financed the road upfront. In 2010 it awarded a US$15.4 million contract to Synergy Holdings Inc, Fip Motilall's company, whose road-building experience was dubious. The contract was for the upgrade of approximately 85 km of existing roadway, the design and construction of approximately 110 km of virgin roadway, and the design and construction of two new pontoon crossings at the Essequibo and Kuribrong rivers. The deadline for completion was September 2011.
The road was plagued with delays from the beginning leading to government's termination of the Synergy contract on January 12, 2012.
In addition to Motilall's company, others were awarded contracts for various sections of the road, some of which were subsequently terminated. Financial analysts estimate that the final cost of the completed road will be in excess of US$30 million.
"The fact of the matter is that the road is under construction. We cannot abandon construction of the road in the way it is or else we will lose all investment. It is not completed and if you do it halfway, it will be destroyed in the critical sector," said Benn.
Benn slammed what he called reckless statements in the media by various people about the hydro project, including "some who should know better". He said a fundamental problem is that since the project commenced, it is public knowledge that there is a deficit in energy supply and production in Guyana.
"Every day that we forego bringing this project into existence, according to realistic schedules we lose money. We lose the opportunity. Every day that we miss power goes over the falls to… be wasted," he said. "Since we have an opportunity and model in place to achieve this for a certain time, this is a real loss. Every day is a real loss to the country and to future generations," he said.
Benn said that Amaila represented the closest and most viable opportunity this country has ever had to bring a hydro project into operation. "It would be a great shame that we would still continue to lose that power and opportunity and continue to import fossil fuel," he said.
He said that should new investors come on board and the project is put back together financially, there would be something of a road already in place. "If we don't complete it now we will be caught mid-step. If you stop mid-step, what you build would be destroyed," he said. "In reality if you don't continue it to some reasonable completion you will lose investment. If you don't finish now, you will have to find money to restart it completely again whenever the project is put together again," he said.
Asked when the road would be completed and what the final cost would be, Benn declined to give any information, saying that the ministry now has to look back at the numbers.
He did say, however, that the final cost would not be unrealistic in terms of the terrain that has to be turned into road.
He said the contractors are still on the ground working on the various sections of the road. "While all this talking has been ongoing we have been having an extremely difficult year weather-wise.
We have had a wet July, a wet August and even in September we have had rain," he said; "they are taking a beating out there." Owing to the fact that it is better to build in dry conditions, the ministry tries to optimise roadwork in the dry season, and focus on drainage and maintenance of equipment during the wet.
In May this year, China Railway First Group, which was given a contract of US$8 million to complete section 7 of the road, took in surveyors to commence preparatory work.
This part of the road was wrested from contractor HN Pasha, who for various reasons, failed to complete the execution of a contract awarded earlier.
Section 2 of the road was being undertaken by the Ministry of Public Works while sections 3 and 4 were being completed by Toolsie Persaud Quarries. Ivor Allen had been awarded a contract to work on section 5; G Bovell, section 6 and HN Pasha, section 7.
In January 2012, government announced that it had terminated the US$15.4 million contract that had been awarded to Motilall owing to his failure to meet the deadlines. Motilall later related to this newspaper that he had received US$5.8 million for the work he did on the road.
Around the Web