Linden educator, Dr Walter Kyte died on September 5, 2013 at Florida's  Orlando Regional Medical Centre after being evacuated there following an accident in Guyana.
Kyte was a passenger in a minibus accident on the  Linden highway on August 25 that claimed two lives. He was transported from the Linden Hospital to the Georgetown Hospital the following day. After help from government officials, he was medivaced to Florida but subsequently succumbed. Stabroek News understands from close family members that among several other complications,  Kyte suffered a kidney failure.
Kyte had been in Linden to head the Linden Fund USA's annual three-day Edu Professional Development for teachers, administrators, and head teachers. This is an intense workshop that the Linden Fund has been spearheading for a number of years with Kyte being the lead facilitator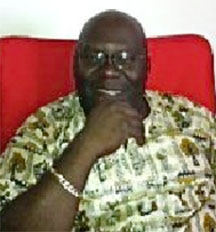 Over the years he has invested in education possibilities for youths and teachers in the Linden Community. The most recent had been a five-year scholarship to Meletia Hossanah, now in the 3rd year and a two-year scholarship to Keslyn Orna now in the second year.
"Walter was an educator's educator. In this life there are lots of talkers and not enough doers, Walter was one of the doers. He was in Guyana in preparation of doing what he loved best helping others. We have lost a great and graceful man. My deepest sympathy to the entire Kyte family and his beloved wife Jennifer", Linda Johnson, President of the Women of Mission International said.
Former Chairman of the Linden Fund USA, Dr Vincent Adams said that the passing of Kyte is a great loss to the education systems, both of the USA and Linden. "We feel very emotional about the loss of Dr Kyte, a man of valour and honour. His impact in the education system here and what he had been able to do for the Linden education system for the few years of his involvement through the Educational Workshops and scholarships for student is immeasurable. He will be greatly missed and I extend my condolences to all his loved ones and friends."
Kyte had to be pulled from the minibus that was submerged in the Kairuni Creek following the accident on August 25. Kyte did not receive his luggage when he arrived in the country on August 24 and he was travelling to the city on the afternoon of August 25 to collect it from a relative when the accident occurred.
Chairman of the Linden Fund USA, Bishop Dr. Michael Clarke had said that following the accident Kyte had complained of difficulty in breathing and that once his condition had stabilized efforts would be made to get him back to the US as quickly as possible.
Two persons died in the accident – a twenty-three-year-old mother of two, Anastasia Cole of Ituni and a six-week-old infant, Taquayyah Shepard. Several other persons suffered injuries in the accident.
Kyte was the third of seven children.  As a child he attended Bedford Methodist School.  His parents then moved to Linden where he attended St. Aidans Anglican School and completed his elementary education.
He then enrolled at Georgetown Adventist.  In 1968, he migrated to the United States to continue his education.  In 1970 Kyte registered at Queens College, The City University of New York.   In 1974 he graduated with a Bachelor's Degree in Liberal Arts.
He continued his quest for knowledge when he received a scholarship to Antioch University.  He earned his master's in Early Childhood Education. He later enrolled at Jersey State College in 1982 and earned another master's degree, this time in Special Education.  In 1985,  Kyte graduated from Brook-lyn College with an advanced certificate in Supervision and Administration. He later enrolled at Walden University in the PhD programme.  In 1993 Walter completed his PhD in Organization Management.
Kyte was the only appointed Guyanese/Caribbean Superintendent of schools in the City of New York.
According to friends,  Kyte's motto was always if he can help somebody as he passed along then his living would not be in vain.
Around the Web