Miners are to benefit from what has been described as new environmentally friendly mining equipment and other goods and services with the establishment of HFD Mining Supplies on Oronoque and Forshaw streets.
HFD is a subsidiary of another Surinamese company which, according to Jarel Dawson has been operating for approximately 20 years. Dawson, one of HFD's investors, says that yesterday's opening ceremony culminated two years of vision and ambition. Some of the challenges, he said, included finding the right location from which to operate considering the storage volume, parking space and general environment needed.
The Suriname-based company, he said, has been exporting high-tech mining gear to Guyana for several years and has noted that the market here has been performing better and better every year.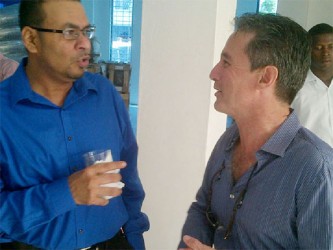 He further shared that the company is "amazed by the performance in the gold industry over the last four years," and added his belief that decreased gold prices would not do much to affect the performance being seen.
"Even if the price of gold wasn't there you know, because it dropped rapidly you know, about twenty percent, and you still reached the target that GGMC (the Guyana Geology and Mines Commission) set out and that is a good sign," Dawson said.
Natural Resources Minister Robert Persaud yesterday reiterated that despite the recent drop in price, gold declaration this far for 2013 is 24% higher (330,000 ounces) than what was recorded for the same period last year. Further commenting on the scope of mining operations in Guyana, he said that there are currently 16,000 licensed dredges and 10,000 licensed operators in Guyana.
"People are still mining, even though the price of gold drops you still reach your target each year," Dawson said. When asked about the scale of the company's investment, Dawson declined to disclose the financial specifics although he said that it was substantial. He also said that Guyanese will benefit from employment opportunities with the company but did not say how many such opportunities will be offered.
Environmentally friendly
Among the equipment that will be offered by HFD Mining Supplies are high-tech gold scanners. According to Dawson, the marketing of this piece of equipment is one of the main operations of the business. The scanner is configured to detect nuggets of gold, up to a gram. It is capable of detecting gold up to 20 feet below the surface and is powered by rechargeable lithium ion batteries.
The scanner is therefore environmentally friendly, and will be offered to buyers at a cost of US$5, 000 to US$11,000. Since it can also be used for prospecting and scouting, Dawson said that the scanner's multi-purpose capacity makes it a good investment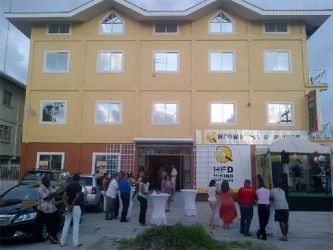 HFD currently supplies the equipment to Suriname, French Guiana, Ecuador and Guyana.
Dawson said that 'competitively priced' pump houses, tubes, and many other goods and services will be made available to the Guyanese market in a more convenient manner. He told reporters yesterday that the competitive prices are maintained to ensure that the miners are able to procure the equipment they need to continue their operations.
Multiple outlets
While the office at the intersection of Oronoque and Forshaw streets will be the main base of the company operations, Dawson hinted at intentions to construct several outlets in and near mining communities. "I've been going already to Bartica, to scout a little bit, we'll be going to Lethem, Mahdia, and several other communities," he said.
The "small shacks" that will be placed in these communities, he told reporters, will assist miners as well as the company in more ways than one. The goods and services of the company will be brought closer to the people who are in need of them, while the costs usually incurred by miners in moving new equipment into their areas of operation can be mitigated.
Such a venture, he admitted, has several security risks but Dawson was confident that the security measures they will install – security cameras, alarm systems etc. – will provide sufficient protection.
Former Chairman of the Private Sector Commission (PSC) Ramesh Dookhoo yesterday welcomed the company and urged it to compete fairly while honouring the laws, rules and regulations that govern its operations. Dookhoo said that the decision of the investor to choose Guyana is a good indicator that the country has a "bubbling economy," despite the utterances by others who are not so convinced. He also said that it was private sector lobbying which helped eradicate the practice of giving preferential treatment to local investors at the expense of foreign investors, efforts which were yesterday lauded by Persaud.
Noting that opportunities should flow in both directions though, the Natural Resources Minister also charged the PSC to seek out opportunities for local investors to break into the Surinamese market.
Around the Web