Some 30 adolescent boys, aged 14 to 17 years old have benefited from a Supportive Teamwork Opening Minds Positively (STOMP) camp held from August 4 to 24 by the US Peace Corps and the Childcare and Protection Agency (CPA).
According to a press release from the US Embassy, STOMP was a pilot summer camp that provided the boys who live in residential care with an opportunity to develop good leadership skills, positive decision making abilities, healthy life skills, and short and long term goal projection.
Activities during the three-week camp included physical fitness exercises such as military drills, sporting activities, swimming, and gym. Opportunities for the boys to be mentored were also available and the camp allowed for the fostering of relationships between the 30 boys and 10 male role models, to encourage healthy lifestyles choices. "Mentors allowed for male bonding, offloading their fears, examining their risky behaviours, discussing their past experiences, and working towards finding a healthy and realistic solution with someone who has walked the path before," the release said adding that the young boys were afforded the opportunity to connect with role models where they could dream and plan for a life beyond their current circumstances.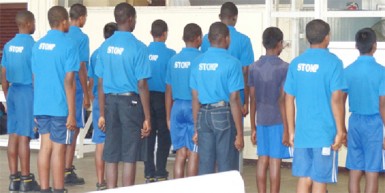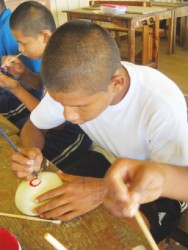 In addition, Camp STOMP offered classes in arts and crafts such as leather craft, painting, and tie dye and the boys got to keep the items they had created. Fun activities included a movie, a bonfire, storytelling, and skits.
The release said the camp ended with the Day of Challenge, or Hero Day, where campers participated in a drill display, a physical fitness challenge, an exhibition of the HIV/AIDS awareness materials, and a talent show.
At the end, each boy was awarded a certificate of completion and a backpack donated by the US Embassy.
Peace Corps Response Volunteer (PCRV) Melissa Trainor worked closely with CPA staff and the STOMP coordinating team in planning, implementing, monitoring, and evaluating the STOMP camp, the release said.  In addition to the PCRV support, Peace Corps supported the camp by providing President's Emergency Plan for AIDS Relief (PEPFAR) funds through the Volunteer Activity Support and Training (VAST) grant mechanism.  To ensure the objectives were met successfully, the CPA collaborated with the Ministry of Culture, Youth & Sport, the Guyana Defence Force, the Guyana Police Force, Habitat for Humanity, the Guyana Scouts Association, and the Burrowes School of Art.
It is hoped that another group of vulnerable boys will be able to benefit from the STOMP experience in 2014, the release said.  The project may expand to include boys with similar backgrounds and experiences from the remaining 20 residential care facilities and potentially at risk boys from secondary schools.  CPA will also continue to request services and resources from external stakeholders including services, equipment, clothing, and food, the release added.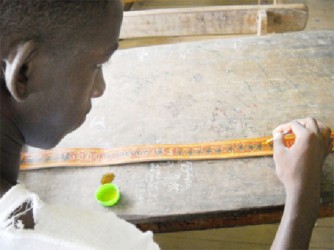 Around the Web