Parika Public Road vendors say that they are suffering losses as a result of the flooded pavement along the roadway, which they may have to endure at least up to the end of the month.
Vendors yesterday vented their frustration at the Mora/Parika Neighbourhood Democratic Council (NDC) for not doing enough to alleviate the problem, which they said had been highlighted since March of this year.
The vendors revealed that whenever it rains, the water rises up to between six and nine inches high. "We are losing business because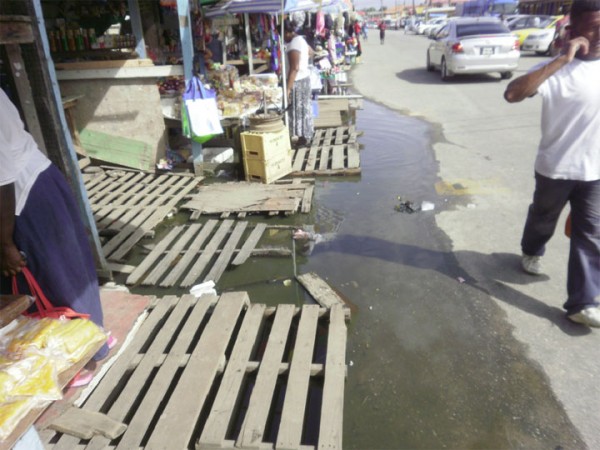 of this stagnant water. No one wants to come and shop from us," said Nesta Merville, a frustrated vendor.
"Before March this place was always clean. We have filed an injunction against the region because they want us to move. We will move, we are more than happy to move but we don't have a daily market day," Sumintra Jetoo said. "They want us to move. We will. Just find a place for us. We need something done about this situation," she added.
However, overseer Aleassa Peters told Stabroek News that the NDC is aware of the flooding of the pavement, which is due to a culvert that collapsed about four to five months ago. The public road, she explained, does not fall under the NDC's jurisdiction, but rather under the jurisdiction of the Ministry of Public Works.
"Our chairman has already raised the concerns of the vendors with the minister, and we have already started some works. The water should recede by the end of this month or next month the latest," Peters said.
"The reason why it has taken the NDC this long to fix the problem is because of the size of the culverts, which are about three feet wide. Only a small excavator can be used and the operator, being the only one who operated the machine has other engagements from time to time," Peters added.
The vendors are adamant that they are being victimised since there is an ongoing dispute between them and the NDC, which has been trying to remove them from the road.
"We have paid lots of money to clean this area. The NDC does not clean it. We have so far paid the guys $27,000 to clean this area for us and we still owe them another $7,000," one vendor said.
"They started to clean down the road and by the time they reach this area they stopped. You hear the bobcat not working, you hear this not working," another added.
Around the Web