Crime Chief Seelall Persaud this morning said that police are investigating the murder of an elderly rice miller which occurred in Berbice last night.
He identified the dead man as Corentyne resident, Lalpersaud Jaggardeo, age 74, a rice mill owner. The man, he said sustained a gunshot wound to the chest around 20:25 hours in what was an apparent robbery attempt at his home.
Persaud said that four masked men, one armed with a shotgun and the others with handguns invaded the man's home. Jaggardeo was in the top flat of his home when relatives on the lower flat began shouting for `thief' after spotting the men in the yard. The elderly man who is a licensed firearm holder confronted the men on the lower flat, pelting them with a pineapple in the process, Persaud said.
The men fled and Jaggardeo chased after them. The men discharged three shots as they fled. He was hit at his gate.
Persaud said that police are still looking for the perpetrators of two other gun-related crimes which also occurred last evening.
He said that the ready availability of guns and the frequency of gun crimes within the last two weeks are a cause of concern for the Force. He said that police are working and that patrols are at maximum given the resources available.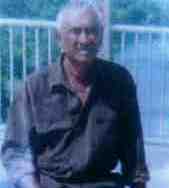 Around the Web