The design of the 5th of May monument to commemorate the arrival of the first East Indian immigrants has been chosen and it is to be installed at Palmyra, Corentyne
The winning entrants were presented with a $500,000 cheque by Minister of Culture,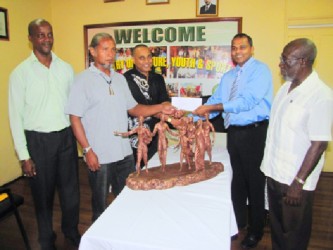 Youth and Sport Dr. Frank Anthony on Monday, the Government Information Agency said. The winning design by Philbert Gajadhar and Winslow Craig, was one of five entries submitted for judging by a panel which comprised Tota Mangar, Col. Linden Ross, Naudia Madhoo, Neaz Subhan and Ivor Thom.
GINA said that the monument was originally earmarked to be placed at the Highbury Plantation, East Berbice the first landing point for East Indian immigrants, however it was then decided that it should be placed at a location that is more travelled.
Anthony said that after consultations with the Region Six Regional Democratic Council, it was decided that Palmyra, at the head of the junction, east of the Berbice River Bridge was a suitable location.
"The land where we thought would be a good site is owned by GuySuCo, and we have since spoken to them and we are now finalising the paperwork. They have agreed that they would be giving us two acres of land in that area to develop this monument site…suitable landscaping will also be undertaken", GINA reported Anthony as saying.
The monument will be sculpted in bronze, 12 feet high, 12 feet wide, double life size, and mounted on a 9-foot high base.
Describing the artwork, a model of which was on display, Gajadhar said, "It shows six figures in a forward thrust, it describes the lives of ordinary Indian people in their routine of everyday life with each carrying something of importance.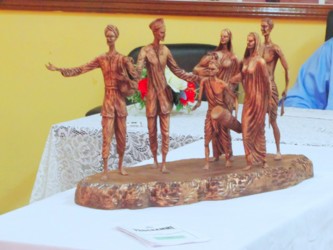 Their jahaji bhandal (ship bundle) loaded with food, spices, herbs, clothing, jewellery, their Gods etc, religious texts, drum, karaahi,(cooking pan) tawa, (flat circular metal for cooking roti) grass knives (scythe), cutlass and rice plants. The figures are presented in a straightforward realism with the human factor ever present. They are being led by Ram and Khan, the first two Indians to set foot in Guyana."
He said the first figure gestures "behold", while the second with hand resting on the shoulder of the first, looks back urging the others on. "The relationship of the figures becomes increasingly complex as the viewer's eyes move from the base to the heads. The rhythms of the figures are parallel and give a sense of quickening motion which conveys strong emotion," Gajadhar said, according to GINA.
The monument should be completed within two to three years once all arrangements are put in place, GINA said.
Around the Web