The body of a man, who appeared to have been stabbed and slashed across the throat, was found at Grove, East Bank Demerara yesterday morning.
Dead is Seepaul Beharry, 53, who did odd jobs in the village.
According to villagers, Beharry's body was found lying on a bench at a shop at about 6am. Police later put the time of the discovery at 8am. They said the body bore "suspected stab wounds to the throat and abdomen."
His brother, Dhanraj Gossai, said Beharry was an alcoholic with no fixed residence and had lived on the road for the past 25 years. He said that he received a call around 6am about the death of his brother.
He added that when he arrived at the scene, he saw what appeared to be two visible stab wounds in his brother's abdomen and his neck appeared to have been slashed.
Gossai added that he could not understand why someone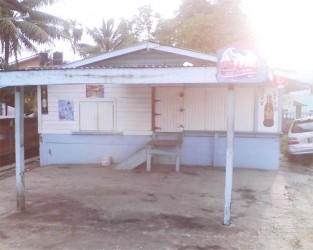 would want to take his brother's life.
He said that he had last seen his brother on Saturday and he was his usual self. He said he did not appear to be worried nor did he give the suggestion that his life might have been in danger.
Gossai recounted numerous attempts he made to get his brother to return home but said that they all failed. "He nah been want come home cause he does drink and me don't drink and smoke, so when me bring he, he does drink and when me talk, he does go away," Gossai said.
Beharry was never married and had no children, according to his brother.
A Grove resident said that Beharry was a well-known man in the neighbourhood, while noting that he did odd jobs for persons living in the village. Residents described him as an easy going and helpful man.
Beharry's body is currently at the Lyken Funeral Parlour awaiting a post-mortem examination.
Around the Web