A Meten-Meer-Zorg man was last evening shot dead when gunmen invaded his  grocery and home, carting off at least $1M in cash and documents.
Dead is 27 year old Zulfikar Namdar, also known as Vicky. His friend and shop help, 17-year old Stephen Mohammed was shot to his left thigh and was seeking treatment at the Leonora Cottage Hospital up to press time.
"We ain't see where they come from, they just turn up…five a them all with gun and just put a bullet in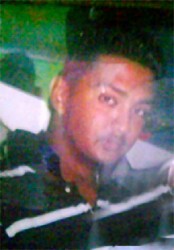 Vicky and when he fall dem continue  firing and seh 'all a ya ll pun de ground we want everything'", a customer who was at the West Demerara shop shakily related to Stabroek News.
The eyewitness said that while two gunmen kept watch, three went into the family's home. He said that the men all wore masks but that he remembers one being small framed.
Zulfikar's father Gulzar,  a regional Vice President of the Central Islamic Organization of Guyana (CIOG), said that his wife Fazila Namdar , as she held her three-year old granddaughter, was also assaulted by the men who demanded cash and jewellery.
He said that at the time, around 7:15pm, he was in his bathroom preparing for evening prayers when he heard rapid gunfire. Shortly after, he heard gunshots and a strange voice demanding that his wife hand over valuables. He said that he stood helpless fearing the worst and while the duration of the killing and robbery was less than five minutes to him it seemed a lifetime. "I know we were being robbed because I hear two shots… I slid to the side and didn't come out because I wasn't sure what exactly would happen…I hear my wife scream pleading with them 'ow yall don't do me nothing a gon give ya ll everything' but they continued roughing her up saying give me everything," he said.
He said his wife asked if she could keep some important documents but they did not heed her requests and instead took a pouch that contained over $1M in cash and many important documents that he used as he executed his duties as a Justice of the Peace and for the CIOG.
From his vantage point he said that he saw a side view of one of the gunmen as he grabbed the pouch but that he continued asking for "everything". After they collected the pouch and ransacked the room in their search for other valuables they fled.
However, he was not aware that his son was fatally shot. As he darted outside to see what had happened, he was greeted by his son lying in a pool of blood. "When they left I rush to the shop and I see my son shot on the ground…I know he was dead already but we still rush he to Leonora Cottage Hospital where they pronounced that he was dead," he said.
Namdar said that in his fifty years of living at the Lot 76 Meten-Meer-Zorg residence he had never experienced even petty robberies. "This is a shock because in meh 50 years nobody never even tek a fowl for we now look this here," he lamented.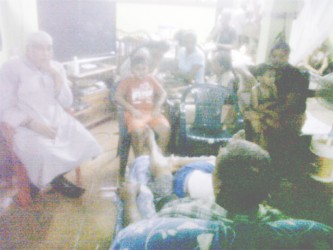 Eyewitnesses say that the gunmen ran in the direction of the cane fields but some opined that it was a car that was seen parked in one of the side streets that the men ran to and made their escape  though the nearby cemetery road. "As they run down there by the cane field (pointing south) they keep firing in the air so we could only peep …," one resident said.
Vicky was described as a soft spoken, fun-loving young man who rejoiced in assisting persons in need. The father of two, a five-year-old boy and a three-year-old girl, was a also referred to by his wife as dedicated and hardworking. His father said that it is only a year now since he went from assisting him with his business to opening the grocery store, Akhtar and Asyah Grocery- named for his two children. "He was quiet, soft spoken but willing, always willing …it was because of how he loved being with his friends and how he treated persons that saw him getting the kind of support he did with the shop," his father said.
CIOG President, Fazeel Ferouz, who was at the home giving the family support last night, expressed shock at the heinous crime. He said that there appeared to be no solution in near sight for the rising crime that continues daily to grip the country.
There was a heavy police presence last night on the West Demerara.
Around the Web