Scrap metal dealer Keith Thuesday will be spending the next two years in jail after he pleaded guilty yesterday to having a utensil used for smoking cocaine in his possession.
The charge stated that on August 8, at Lot 112 Alexander Street, Bourda, Thuesday, 43, had an improvised pen cover, described as a utensil used to smoke cocaine, in his possession.
He pleaded guilty to the charge.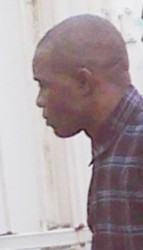 At his arraignment at the Georgetown Magistrates' Court on August 9, he had pleaded not guilty to the charge and had accused the police of planting the tool on him.
But yesterday Thuesday told the court that he had a pregnant wife at home and that he wished to conclude the matter since he needs to get out of jail and work to provide for the financial needs of his family.
Police prosecutor Vishnu Hunt said that on August 8, at 5pm, police ranks searched Thuesday's home and they found the utensil in his bedroom.
Magistrate Judy Latchman sentenced him to one year imprisonment yesterday and ordered that he serve the sentence after he would have completed the one-year sentence he is currently serving on another drug offence.
Thuesday is currently serving a one-year sentence, which was imposed on September 3, for having 99 grammes of cannabis in his possession for the purpose of trafficking.
Around the Web