The suspect in the fatal shooting of Tucville resident Sheldon Cheddie was chased down and later cornered in North East La Penitence, even though he discharged several rounds at public-spirited citizens who pursued him after the shooting.
Those persons who were instrumental in his capture were yesterday praised by Cheddie's family, which said that had the suspect not been pursued, he would have escaped.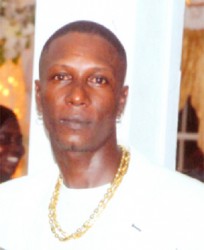 Up to press time last evening, the suspect, reportedly a Berbice resident, remained in police custody. He had been badly beaten after he was captured and received medical attention at the Georgetown Hospital before being taken into custody.
Stabroek News understands that charges could be laid against him before the week ends.
Police said in a press release yesterday that at about 8:30pm, the 37-year-old Cheddie was at the "Turning Point," Tucville, when a man approached and discharged several rounds at him, hitting him about his body. Cheddie, a former DJ and trader, was subsequently pronounced dead on arrival at the Georgetown Hospital. "Public spirited persons pursued and caught the suspect who is presently in police custody assisting with the investigations," police said.
Up to press time there was no clear motive for the shooting. Crime Chief Seelall Persaud said that Cheddie had been "arrested by police for drugs" in neighbouring Suriname.
He, however, could not recall when this was or what the outcome of the matter was. He added that this does not necessarily mean that this was the motive for his murder and police would be doing a check into the man's background.
At the scene yesterday, eyewitnesses told Stabroek News that Cheddie was sitting with friends under a tent set up next to an 'Ital' shop when the gunman walked up to him and opened fire. This newspaper was subsequently told that seven bullet holes were evident on his body.
One eyewitness said that from all indications, the gunman's sole target was Cheddie as no other person was targeted. Based on what persons in the area told this newspaper, the gunman was alone but they believed that there was a second person who pointed out Cheddie to him.
After shooting the man, the gunman calmly turned before running onto Takuba Road and then ran into an adjoining alleyway and then through several other alleyways behind the East La Penitence Police Station.
There had been reports that the shooter escaped on a bicycle but residents yesterday said that they saw the suspect running with a gun in his hand.
It is suspected that a getaway car was parked nearby but the gunman abandoned his route to it after residents gave chase behind him.
One resident recalled seeing the man running and a crowd running behind him. The man said that along the way, other persons joined in. The gunman managed to make it across Mandela Avenue but was captured in North East La Penitence.
"I thank all the friends. Who is going to take a chance to run behind a man firing bullets at them?" Keith Cheddie, the dead man's father, said yesterday.
He said that he was told that the suspect was running and shooting as he fled. "The boys say that the bullets them have to finish and then is when they ketch up with he," he said.
Open and shut
As the elder Cheddie prepared to visit the police for an update yesterday, he said that it is an open and shut case for the police.
"This is not a case where you have to pressure a man…you have the man," he said, while adding that it is now up to the investigators to get from the man who hired him and who was his accomplice. "If they don't get the suspect they never solve the case," he observed.
He told Stabroek News that he last spoke to his son on Sunday and it was the usual lively conversation. Based on what Keith said, tracking his son would have been an easy task as he would often hang out with friends along the "Turning Point" corner.
The spot where he was killed is about four yards from his home.
Asked about his son's arrest in Suriname, Keith said that it was due to a misunderstanding after he was the victim of a kidnapping. He explained that several years ago, while he was involved in trading, his son was kidnapped in Suriname, where he would go to purchase items to bring back here to sell.
"They kidnapped him and called me for ransom. When they called me the night they say how they got my son. First they said that they want $50M. So I ask them where they think I getting this money from," he said, while adding that the call ended shortly after that.
He said that through a friend, he got a senior police official involved and contact was made with the police in Suriname.
According to Keith, the police advised him not to send any money. "Eventually the police in Suriname caught them and after that they had him and they then let him go. Remember, he can't speak their language so they believed that he was one of them (kidnappers), but eventually the whole thing sort out," he said. He added that with the help of the police, Cheddie was later sent back to Guyana.
Around the Web