Acting Police Commissioner Leroy Brumell today announced the arrest of four persons in connection with the murder of Meten-Meer-Zorg businessman Zulfikar Namdar, which he said appears to be a hit.
"It appears to us a hit because the information that we get is that the men came in firing. The deceased was shot early," Brumell told a press conference, while noting that Namdar had previously received death threats.
One of the men in custody had in his possession a cell phone taken during the robbery where Namdar, 27, known as 'Vicky,' was shot dead by gunmen who invaded his grocery and home. The attackers carted off at least $1M in cash in the attack, which occurred around 7:15pm on Tuesday evening.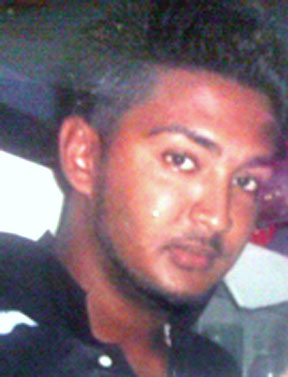 Witnesses had recounted that about five gunmen invaded the shop and shot him through the grillwork as he stood at the counter. His friend and shop help, 17-year old Stephen Mohammed was shot to his left thigh during the attack, while his mother, Fazila Namdar, who was holding her three-year old granddaughter, was also assaulted by the men who demanded cash and jewellery.
Brumell today said that given the progress thus far, he was optimistic that the case would be solved.
"I can go a little far to say that one of the phones missing from there was recovered and it was discovered on somebody we have arrested that person and I am sure that we will get somewhere with that," he said .
He also announced that the driver of a car that two persons got into at the scene of the crime was also held. "We have arrested the driver and we have that car and there is also mention of another person where threats, [it] is alleged, were issued to the deceased. We have that person in custody. We are working assiduously," he added.
An autopsy performed on Namdar's body stated that he died of gunshot injuries. It was explained to his family that the bullet that pierced his throat travelled downwards, damaging his internal organs and causing him to die instantly.
His father, Region Three Vice President of the Central Islamic Organisation of Guyana (CIOG), Gulzar Namdar opined that his son met his demise because the bandits believed that he was reaching for a weapon under the counter. However, he said that his son did not own a firearm and was probably reaching for the box which contained his store's day earnings to hand over to the men.
The Muslim Youth Organisation has joined in expressing concern about the heinous crime, following CIOG President Fazeel Ferouz, who had expressed shock at the murder.
Ferouz, who had visited the home along with Minister of Housing Irfaan Ali, had said on the night of the killing that there appeared to be no solution in sight for the rising crime that continues daily to grip the country.
Around the Web