The suspect in the execution-style killing of former DJ Sheldon Cheddie has told investigators that he was contracted following a drug-related transaction between the man and other persons.
Crime Chief Seelall Persaud told Stabroek News yesterday that the man during questioning said that Cheddie was involved in a drug-related transaction and he (the suspect) was given a contract to "beat him up".
Up to press time last evening the man remained in police custody and with the completion of the post-mortem examination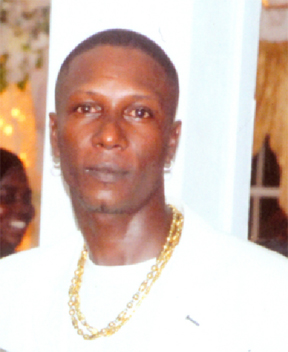 yesterday  he is expected to be placed before the court before the week ends. The post-mortem examination revealed that the 37-year-old father of five died as a result of multiple gunshot injuries. Reports are that he was shot seven times.
Cheddie's father Keith told Stabroek News that three bullets were removed from his son's body. He said that swabs were done on the clothing he was wearing at the time.
He said that he was made to understand that the suspect is not a Guyanese and might be a resident of neighbouring Suriname. Persaud had told Stabroek News that Cheddie had been  arrested in Suriname on a drug-related matter but he was unable to say when this was and what became of the matter.
However Keith said that his son was not arrested but rather was kidnapped. He said that the kidnappers had demanded ransom but on the advice of the police here none was ever paid. His son was later rescued.
Yesterday the man remained adamant that the police have an open and shut case because all of the evidence is in front of them.
Police had said in a press release that at about 8:30pm on Monday, Cheddie was at the "Turning Point," Tucville, when a man approached and discharged several rounds at him, hitting him about his body. Cheddie, a former DJ and trader, was subsequently pronounced dead on arrival at the Georgetown Hospital.
Residents had told this newspaper that the man was sitting under a tent with friends when a man armed with the gun walked up to him, aimed his weapon and opened fire. One resident said that based on how the gunman operated, his sole target was Cheddie.
The man then calmly turned around before running onto Takuba Road and into an adjoining alleyway. Cheddie's friends and other persons were in hot pursuit. Although the man was running and firing, the crowd continued following him.
He ran through a number of alleyways and ended up crossing Mandela Avenue before being cornered in an alleyway at the side of Channel Nine.
After being given a beating he was handed over to the police.
Around the Web