A witness yesterday testified that accused murderer Stravo Evans confronted her with a gun and threatened to kill her and her family if she identified him after the fatal shooting of Bascal Johnson on Laing Avenue.
Evans is on trial in the High Court before Justice Navindra Singh and a 12-member jury for the murder of Johnson, called 'Pascal,' who was killed on January 3rd, 2010.
Lisa Ann Nurse, who was with Johnson in the moments before he was fatally shot, testified that they were standing on Laing Avenue when they were both confronted by Evans, who had a gun and another man, who she identified as 'Boyo.'
Nurse told the court that she had known Johnson for seven years and that they had been in a relationship for three years. She said that she also knew Evans from seeing him around. Nurse said that when Evans came up to her, he was dressed in all black with what appeared to be a 9mm-calibre gun in his hand, while Boyo had a glass in his hand.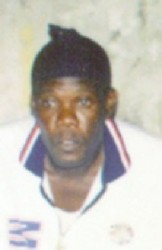 According to Nurse, she told Evans that Johnson was not doing her anything and to leave him alone. Anticipating something would happen, she said that she ran to a nearby shop to summon the help of a woman, identified as "Ms. Yvonne." It was during her attempt to get help that she heard a "boom," she said.
"I ran to Ms. Yvonne and I heard something go 'boom' and I continue running. I reach by she but she did not want to come and I was running back to where I left Stravo and Boyo with Pascal and when I reach a little way, Stravo brace me to a fence and put the gun to my face and tell me leh I don't play I calling he name 'cause he gon kill me and kill me family, then he left," Nurse testified.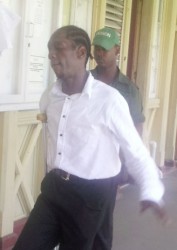 The woman said that when she looked on the ground she saw Johnson with a hole in his head and Boyo was still there. She said that she immediately raised an alarm and neighbours came and tried getting a taxi to take the injured man to the hospital. Nurse said that it was about half an hour after a police van came and transported Johnson to the hospital and took her to the East La Penitence Station and then to the Ruimveldt Station the following day where she related what had happened.
State Counsel Tishana Lake is leading the prosecution while attorney Peter Hugh is representing Evans.
Under cross-examination by Hugh, Nurse said that she did not see Evans point any object in the direction of Johnson and that she also did not see Evans pull the trigger. When asked if Boyo had a gun, she replied, "Where Boyo gon get a gun from? He was drinking. I did not see him with no gun."
Hugh asked her if Johnson had a gun and she replied that he did not have one. Hugh went on to ask the witness why she did not raise an alarm when she was being braced to the fence by the accused, and she replied that she was afraid that he might harm her.
The lawyer then put several suggestions to the witness. Hugh suggested that Evans was not there and that she did not know who shot Johnson. The witness said that although she did not see who shot Johnson, she knows Evans was there because she saw him there and although the place was dark, she was able to see his face from a light that was shining from a nearby shop.
Meanwhile, Police Constable Jevon Thomas also testified that he assisted in conducting the investigation into Johnson's death. He said that he was later given instructions and based on these instructions he prepared a charge of murder and on April 1st, 2010 he contacted Evans at the Brickdam Station, where he informed him of the charge and read the particulars to him.
Hugh asked the witness if he was aware that Evans was in custody since March 29th, to which he said no. He added that although he saw Evans at the station prior to April 1st, he could not recall the date.
The trial will continue on Monday.
Around the Web