Guyana is the locale for the first leg of a yachting rally that took off from Trinidad and Tobago and will end in French Guiana.
The five vessels participating in 'Nereid's Rally' yesterday morning anchored outside the Hurakabra Resort on the West Bank of the Essequibo River.
"It is for us a real pleasure that we could come here and participate in an event such as this…Guyana has so much to offer sailors,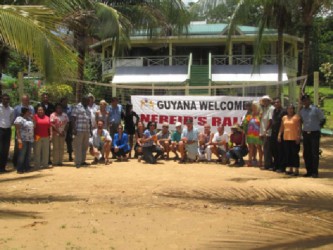 and it has been one of the region's best kept secret for long enough and it is time that other people have the chance to enjoy what is here to offer," were the words of yachter Davide Matelicani on arriving here today, according to GINA .
The yachters were welcomed and treated to a luncheon by Director, Guyana Tourism Authority (GTA) Indranauth Haralsingh and the other organisers of the event including Kit Nascimento, of the resort, and representatives of the Ministry of Tourism, the Coast Guard, Maritime Administration Department, the Guyana Defence Force, the Guyana Police Force, and the Guyana Revenue Authority.
This is the first yachting rally to come to Guyana.
GINA said that Matelicani was pivotal to getting all the others involved in the exercise, and he was also congratulated by the GTA Director for taking the leadership in organising the event.
This inaugural rally has been nine years in the making, GINA said. Nascimento added that the first venture in this regard can actually be considered a yachting flotilla.
Nascimento expressed hope that Matelicani would build the first marina in Guyana.
He said that Guyana needs people like him to help build a yachting industry.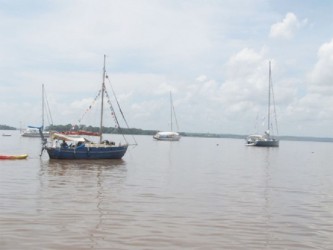 GINA said that Matelicani is sailing the smallest boat in the rally. Among the other four boats is Lion King, a 53-foot light blue yacht which is captained by Harry van Leekue, who, along with his wife has been sailing across Europe for almost three years, and covered 15,000 nautical miles.
The participants also include Bob and Christine Mette in the Virginia Dare, a 40- foot boat that was built in Sweden.
Around the Web