Photographs of Rondy Jagdeo, the prime suspect in the murder of biker Kirk Davis, have been emailed to police in Suriname following his reported sighting in the neighbouring country, acting police commissioner Leroy Brumell announced yesterday, while saying that an arrest is expected soon.
Responding to questions on the case yesterday at a press conference at the Ministry of Home Affairs, Brumell told reporters that police did not have information that Jagdeo, a resident of Alexander Village, had fled across the border to Suriname immediately after the murder.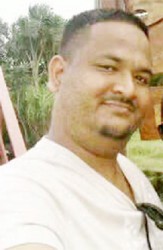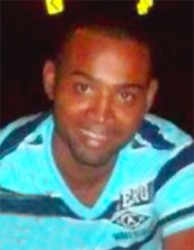 "I know that we have gotten information now and I am informed that he was sighted and we have done the necessary, hoping that we will have him," he said. Brumell added that photographs of the suspect had been emailed to the police in Suriname. "So, we are expecting, very shortly, that he should be apprehended as we were told that he was sighted in Suriname," he said.
Jagdeo allegedly shot Davis to death on September 3 but a wanted bulletin was never issued until six days later. Persons began identifying Jagdeo, a Water Street businessman, as the shooter shortly after the murder. A post-mortem examination revealed that Davis was shot 16 times.
In explaining the delay in the wanted bulletin being issued, Brumell disagreed with the view that police were slow to act. "I wouldn't say that it was a case that the police delay. Our information was that he was in the country and we were exploring all the avenues to get him and after we didn't get him and we got certain intelligence, we decided we have to send out something," he explained.
He stressed that this is not a case where the police was "a little slow" in reacting, while pointing out that there are cases where bulletins are issued after a much longer period.
Brumell also pointed out that there is a very large amount of Guyanese citizens in Suriname's jails. He said that many of them flee to Suriname after committing crimes here and end up going there and committing more crimes.
"I must let you know that when Guyanese commit crimes and they go over there, they commit crimes over there and it is surprising to know the amount of Guyanese that are in prison in Suriname," he said.
Based on reports, Jagdeo had gone to Davis's home to settle a matter. Reports are that when Jagdeo and his wife arrived, Davis entered the car they were in to give his side. It was shortly after this that a female voice was heard screaming and shortly after that, the driver got out of the vehicle, opened the backdoor and began shooting.
The man then reportedly pulled the wounded Davis out of the car and fired several more shots before driving off. The man's wife, who was also wounded in the shooting, was subsequently admitted as a patient of a private hospital.
Around the Web