Of the many priorities that the two countries share, commercial relations have the greatest potential to improve the prosperity of the citizens of Guyana and Canada, Ottawa first female High Commis-sioner to Guyana Dr Nicole Giles says.
A release from the High Commission of Canada stated that Giles presented her credentials to President Donald Ramotar yesterday at the Office of the President.  In her accreditation speech she highlighted that Canada's engagement in the Americas is a key foreign policy priority.  She said that Canada's goal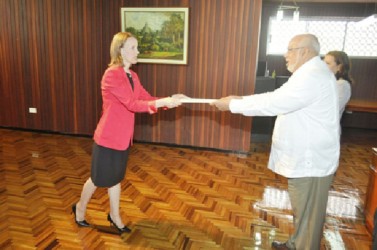 is to expand and deepen its political, economic, trade, security and development agendas in Guyana while ensuring that they are mutually reinforcing and mutually beneficial. She said that Guyana must be lauded for being among the top growth economies in the region.
She described the presence of Canada's largest banks in Guyana and over thirty Canadian companies in Guyana's extractive sector as a sign of a growing commercial relationship of mutual benefit.
According to Giles, of the many shared priorities, commercial relations have the greatest potential to improve prosperity for Canadians and Guyanese. She said that Canadian businesses have much to offer as they continue to contribute to job creation and prosperity in Guyana.
She reiterated that Canada is committed to promoting good corporate social responsibility practices by Canadian companies, and will continue to take a leadership role in encouraging transparency in the extractive sector by establishing new mandatory reporting standards for Canadian companies.
The new High Commis-sioner said that while globalization has brought many advantages, it has also demonstrated that security is not a zero sum game, nor is it divisible: strengthened security in Guyana leads to strengthened security in Canada, and vice versa.
Giles lauded the several hundred thousands of Guyanese who have made Canada their home, saying that they are making an invaluable contribution to Canada's economy, political life and culture. She noted that at the same time, Guyanese who migrated to Canada are not lost to Guyana since many retain strong family, social and economic ties to Guyana.
The Government Informa-tion Agency yesterday said that President Ramotar in his reply said that Guyana remains committed to the successful completion of the Canada-CARICOM trade and development agreement.
"This will serve as a sound basis to support the initiatives of our respective private sectors in their quest to expand business opportunities," President Ramotar said.
GINA said that Canada was hailed by the Guyanese Head of State for its support of national development initiatives.
According to the release, Giles has a BA Honours (Political Science and History) from Queen's University, 1998; MPhil (International Relations), University of Oxford, 2001; DPhil (International Rela-tions), University of Oxford, 2005; and worked as a retained lecturer at the University of Oxford's Wadham College prior to joining Foreign Affairs Canada in 2005. Dr Giles has worked as a programme officer and deputy director with the Nuclear and Radiological Security Division and as director of the Global Partnership Program. She has also published on missile defence and nuclear strategy. Most recently, Dr Giles was director of the Capacity Building Programs Division.
She is married to Brian Giles, and they have one son and one daughter. Dr Giles replaces David Devine.
Around the Web