Andy Adams, 24, who was charged with murdering Nizamudeen Khan on August 6, 2007 walked out of the High Court in New Amsterdam a free man yesterday after the jury came back with the unanimous decision of not guilty.
When Justice Navindra Singh told Adams that the "jury found you not guilty and you are free to go" he smiled and walked out of the courtroom.
Adams, a labourer at a sawmill at Rosignol, West Bank Berbice was charged with murdering  Khan, 56,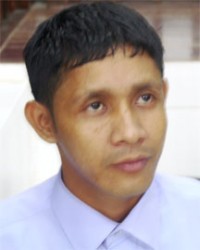 also of Rosignol on August 6, 2007 around 1 am.
State Prosecutor, Judith Gildharie-Mursalin had earlier called the first witness, Constable Mark Johnson who testified that he saw the accused at the station around 9:30 am.
He put the allegation to him under caution that he had dealt Khan several lashes about the body, causing him to suffer injuries.
Khan was rushed to the Fort Wellington Hospital and subsequently transferred to the Georgetown Public Hospital where he succumbed.
In the caution statement which was admitted into evidence, Adams said he was drinking with two persons, Sebastian Clato and Orin Cox. The two were also employed at the sawmill.
He said Cox was drunk and that he and Clato took him home, located in the compound. According to him, Khan who was a watchman at the sawmill refused to open the gate to let them in.
Adams said Khan started to "bad up and he picked up a wood and [fire a] lash at me and he miss. He run me and me turn back pon he. We pick up a wood and lash he."
Adams could not tell how many lashes he inflicted because he was "high." Clato who was jointly charged with Adams died in prison during a brawl. The two were injured in an incident in the Remands Dining Hall, where they sought to represent a fellow inmate.
Five other witnesses were called to give evidence in the matter. Defence counsel, Joel Persid- Edmond said he expected his client to be freed because the evidence was weak.
Around the Web