St Vincent and the Grenadines Prime Minister Dr Ralph Gonsalves has lauded the local housing programme as extraordinary and expressed hope that the private sector would assist with the investment programme for housing in his country.
Minister of Housing and Water, Irfaan Ali took the prime minister on a tour of the Eccles and Plantation Perseverance housing schemes,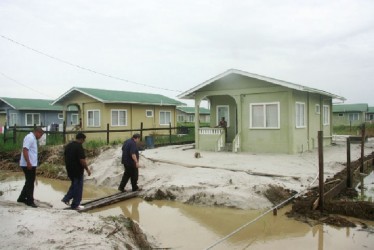 during his recent visit here, a report from the Government Information Agency (GINA) said.
"I don't know of any programme of this magnitude anywhere else in the Caribbean…in the Eastern Caribbean certainly in the OECS, we in St. Vincent and the Grenadines we are reputed to have the best housing programmes, but this one, the scale of it because of the vacant land is just extraordinary and the prices are very good…the people of Guyana I don't know if they fully appreciate what they have here," he said.
During the visit, Dr Gonsalves interacted with home owners including Radika Ramnauth in the Eccles housing scheme, after which he said, "I like the idea, because of the amount of space you have, you can integrate private sector development houses of a bigger kind with the lower middle income and middle income housing…and this is success story which must be told to the region."
The prime minister then said he hoped that the members of the private sector would visit St Vincent to assist with the investment programme for housing through the state-owned Housing and Land Development Corporation. He noted that while the organisation does good work, there is scope for private sector development and opportunities.
Ali expressed appreciation to the prime minister for starting what he considers to be a new vision for the Region and lead the integration process.
"For years we have all be talking about understanding each other, learning from each other, understanding practices and best practices within the Region…I am very delighted at the fact that Prime Minister Gonsalves is leading this effort at looking at examples within countries, and to see how we can apply different examples in the Region to further strengthen our programme," he said.
The minister also acknowledged that St Vincent has a very strong social programme and it has done consistently well in bridging the income and equality gap. He revealed that the island nation had recently received an award in Rome for lowering hunger and poverty. The minister also indicated that he was looking forward to the local private sector's interaction with St Vincent. Investors from that island will also be participating in this year's GuyExpo, and will be brought together for a St Vincent investment forum.
"This is how the Region should really work to so that we can ensure that the liquidity and the capital within the Region stay within the Region so we can build the Region with each other's strength," Ali said.
Around the Web