Omar Williams, a Surinamese national has been charged with Monday's slaying of former disc jockey Sheldon Cheddie.
Williams, who was beaten by public-spirited citizens and handed over to police after the fatal shooting of Cheddie, appeared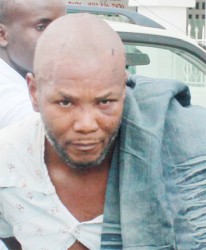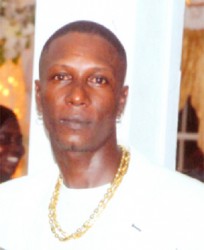 at the city magistrates' courthouse wearing only boxers and a hospital gown. He had no shoes and a pair of jeans were slung over his shoulder and his exposed body bore signs of the beating he received.
The unrepresented Williams, who gave his address as Apanestraat K, 7 Light, Paramaribo, Suriname, to police investigators, was not required to plead to the capital offence of murder when it was read to him by Chief Magistrate Priya Sewnarine-Beharry.
Cheddie, 37, of Lot 946 Jackson Street, Tucville, was gunned down while he was sitting with friends under a makeshift tent around 8:30pm on Monday. Police had said in a press release that a man approached and discharged several rounds at him, hitting him about his body. Cheddie, a former DJ and trader, was subsequently pronounced dead on arrival at the Georgetown Hospital.
Williams only spoke when he was asked to confirm his name by the magistrate.
Before remanding him, the magistrate explained to him that he was charged with a capital offence and that bail is not granted in such matters.  His next court date is fixed for October 8.
Around the Web