Officers of the Customs Anti-Narcotics Unit (CANU) yesterday morning destroyed almost $3 billion in cocaine and marijuana that made up evidence used in recently-concluded court cases and which head of the unit James Singh called proof of higher seizures.
401 kilogrammes of cocaine, worth approximately US$14 million (GY$2,806,299,957.28), and 30.465 kilogrammes of marijuana, valued between US$150,000 (GY$30,067,499.54) and US$300,000 (GY$70,157,498.93) were destroyed in an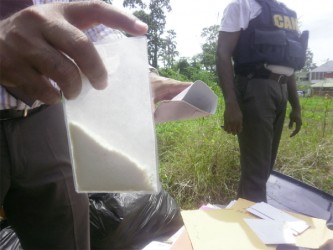 exercise at the Homestretch Avenue where the Ministry of Housing was once located before it was gutted by fire.
As CANU ranks opened dozens of parcels and emptied several containers in front of the members of the media, several armed ranks stood guard.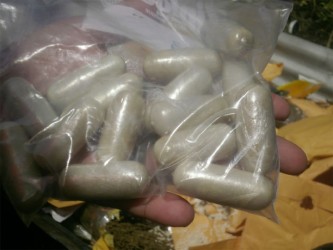 Singh permitted reporters to participate in chemical testing to verify the cocaine. Two members of the media participated in this exercise and it was found that what was dropped into the tubes was indeed cocaine.
Singh said that nothing was opened by CANU prior to it being taken to the location. All of the drugs were still wrapped and he explained that this was done for transparency purposes. Each packet, parcel, letter, postcard and container was cut open and the contents emptied into a large metal container, soaked with gasoline and then set alight. Even the wrappings were in were burnt in the exercise.
When the cocaine is burnt, Singh explained, it turns into a black tar-like substance.
Some of the drugs seized were destined for the United States, Europe and China and Singh listed the Cheddi Jagan International Airport, Timehri (CJIA), and the Post Office as being among the main locations where the seizures were made. He said that the fact that some of the drugs, including the cocaine in fish food intercepted last December, were heading to the Far East (China) indicated that with all the law enforcement efforts across the region, drug traffickers are looking for new markets. Traditionally it has been North America, he said, pointing out that now they are heading to Europe, Africa and as far as Asia.
Asked about CANU's relationship with other agencies, he said that the drugs being destroyed are some of the fruits of those relationships. "The drugs seized here is as a result of operations by CANU and other agencies, including Customs Drug Enforcement Unit (DEU) and the Police Narcotics Branch."
Singh was unable to say on average how much drugs is leaving and entering Guyana but he noted that while Guyana is a transshipment point, the efforts as it relates to the drugs being destroyed is testimony that there has been a lot more seizures. "I would think that because of these seizures it is much harder now for traffickers to have that ease of access as they probably once had."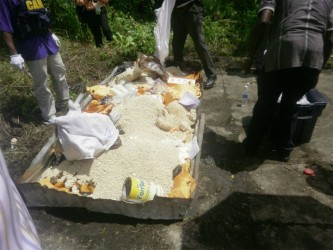 He said too that intelligence gathering is not an issue for CANU because the operations it conducts are intelligence-driven. "Obviously there are challenges. Traffickers use different innovative methods. They have no respect for borders, for law enforcement, for sovereignty," he said, while adding that some would describe it as "a cat and mouse game. So it is always a challenge (but) with support of other law enforcement agencies locally, internationally and also through the various task forces set up by the Ministry of Home Affairs on smuggling, on narcotics and firearm… it brings all the units together, so there is more a collective efforts, sharing of resources, intelligence and the necessary manpower."
According to Singh, it is hard to say which port has the largest amount of seizures. He said that at the airport one still sees persons regularly going to take drugs out and in terms of volume the Customs DEU "scored some good seizures this year and last year where drugs placed in containers were unearthed."
Around the Web