Fly Jamaica will take off from Guyana on September 27, with its inaugural flight to New York via Kingston, as paperwork from the regulatory authorities in the United States is still being processed to enable direct flights.
This is according to Commercial Manager of Fly Jamaica Junior Horatio, who spoke with Stabroek News yesterday.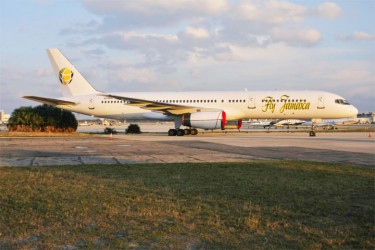 He said that while the airline's fares are not going to be cheap, they will be affordable and the airline will provide commensurate value for money with the service offered. Tickets are already being sold and seats reserved by ticketing and travel agencies.
He noted that a cadre of Guyanese cabin staff is being trained and will be deployed at the end of the training to enhance the Guyanese experience on board the flights.
He said the Guyana to New York via Kingston run will be twice weekly and will coincide with the Guyana to Kingston run. A Toronto non-stop service, which he said will start in October, is also expected to be once weekly, initially.
"Initially it is Georgetown-Kingston-New York, but as CEO Captain Ronald Reece [had said], the plan is to [go directly to JFK from Georgetown]," said Horatio.
The airline is still to receive all of the clearance from the US authorities for the direct flights to the US from Guyana to be possible.
"The airline started to take bookings as of today. I would say that the travelling public will find our fares affordable… I didn't say cheap, but affordable," he said.
Director General of the Guyana Civil Aviation Authority (GCAA) Zulficar Mohammed confirmed this week that Fly Jamaica had met all of the Government of Guyana requirements, had paid the $40 million bond and was ready from the Guyana end to commence operation.
In early June, Cabinet gave approval for Fly Jamaica to operate its service from Guyana to New York and Toronto. However, this approval was contingent on the airline meeting all financial and technical requirements.
Mohammed had stated some months ago that the bond of $40 million was not adequate in the event the airline ran into trouble and passengers had to be refunded. He noted that this figure had not been sufficient to address the plight of the EZjet passengers, who were left high and dry when that airline ceased operations because of issues with its owner.
Fly Jamaica began operations between Kingston and New York in February this year. It is a partnership between two regional aviation entrepreneurs – Captain Ronald Reece of Guyana and Captain Lloyd Tai of Jamaica. The Guyana operation of the airline is based at the Wings Aviation hangar at the Ogle International Airport.
Around the Web