Quincy Andrews, 29, who confessed to breaking into a West La Penitence home but said he was doing nothing, was yesterday sentenced to serve the next three years behind bars.
Andrews, 29, who could not provide the court or police investigators with a fixed place of abode, was yesterday arraigned for break and enter with intent to commit a felony before Chief Magistrate Priya Sewnarine-Beharry in the Georgetown Magistrates' Court. He pleaded guilty.
Police Prosecutor Corporal Bharrat Mangru informed the court that on September 8,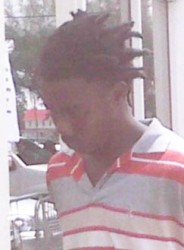 at West La Penitence, Lillian Cummings secured her home and went to bed. She was later awakened by screams emanating from the room of her sixteen-year-old granddaughter.
Mangru said she went to her granddaughter's room and saw Andrews standing there and on seeing her he jumped through the window, making good his escape. A report was made to the police and he was later arrested and charged.
Andrews asked to address the court and when given the opportunity to speak, said, "I am sorry for what I did, but everything that happens in the community is me getting blame for it."
Magistrate Sewnarine-Beharry then asked him what he was doing there. He responded, "nothing, Your Worship."
Before sentencing, Magistrate Sewnarine-Beharry told Andrews that she was taking into consideration that he pleaded guilty and did not waste the court's time. But she said she also had to take into consideration the emotional trauma he would have caused Cummings and her very young granddaughter.
Around the Web