Former Veterinary Officer attached to the Ministry of Agriculture in Guyana Dr Horace Errol Walcott has been inducted into the Worldwide Who's Who for Excellence in Zoological Medicine.
According to a press release, Dr Walcott, a scientist and educator with the NYC Department of Education has been teaching and conducting research in biomimicry and biomechanics for the past 14 years. He is currently working on the development of a solar energy-powered aircraft and boats for environmental monitoring. His areas of expertise include zoological medicine, toxicology analysis and ecological assessment, he mentors students for competitions, ushering in the next generation of forward-thinking and groundbreaking scientists and has been a judge for the Google Science Fair.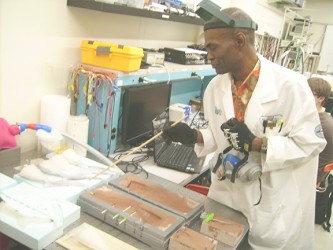 A member of the American Association of Advancement of Science, the American Association of Zoo Veterina-rians, and the American Chemical Society, the release said, he has received numerous accolades, including the 2010 Siemens Foundation Founders Award and nomination as a Fellow of the Royal Society of Arts. He was also a semi-finalist for the 2013 Albert Einstein Distinguished Educator Fellowship Award.
Dr Walcott's educational background includes a Bachelor's degree in pre- veterinaiy studies and animal science from Tuskegee Univer-sity, a Master of Science in wild animal health and zoo medicine from the University of London's Royal Veterinary College, and a Doctor of Veterinary Medicine from Tuskegee as well. Prior to joining the NYC Department of Education, the release said, he worked with the Ministry of Agriculture in Guyana, helping to control rabies outbreaks among cattle. He also served as a consultant to the Georgetown Zoological Park. Dr Walcott was also a research associate in the Tulane University School of Public Health and a visiting scholar at New York University.
Around the Web