Relatives of Lallapersaud Juggerdeo last evening said they are upset that the police are regarding the man's son, Basant Lallapersaud, as a suspect.
Juggerdeo, 74, a rice mill owner of Lot 79 Number 0 Village, Corentyne, Berbice was shot dead allegedly by bandits who invaded his property. He was shot as they retreated from his property.
Speaking to Stabroek News via a telephone interview, Gaitree Lallapersaud, a daughter of the deceased who lives overseas, said they were very annoyed that her brother was being treated as a suspect. She questioned "why they [police] do that?" in reference to police searching his home for ammunition and "gun."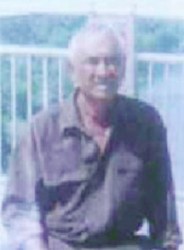 The upset daughter related that her father and her brother had a very warm and loving relationship. "They are only focusing on my brother," she said, adding that persons in the community always spoke of the close relationship the father and son shared.
On Thursday, Lallapersaud had told Stabroek News that detectives had searched his home for ammunition and had taken a statement from him.
This was after police sources had said on Wednes-day that they were unable to get a statement from Lallapersaud as he had indicated that he was too traumatised to speak about the incident.   Acting Police Commis-sioner Leroy Brumell, during a press conference on Thursday, raised questions as to why the rice miller, a licensed firearm holder, had not used his gun. "Something happened there. I don't know why he didn't go out with the gun but we are looking at that," Brumell told the media. "We can safely say that that firearm is at the ballistics section because we do not know if that firearm was used."
Meanwhile, Gaitree Lallapersaud slammed the police for their four hours late response to the crime scene. "It really bothers me to know that they took so long to get to the scene… I don't know how the system works in Guyana, but the cops came four hours after," she said.
She added that if they had responded earlier they probably could have caught the intruders.
She also stated that the police returned several times to the home to conduct investigations. " "We had to tell them to leave… we are mourning," she said.
President Donald Ramotar, during a visit to Berbice yesterday, visited the family and offer condolences. Gaitree Lallapersaud said the President informed them that he will look into the matter and ensure that the family gets justice.
A post-mortem examination performed by pathologist Dr Vivekanand Brijmohan confirmed that the rice mill owner died from shock and haemorrhage. Five persons were taken into police custody and four were released on station bail on Friday night. The fifth was kept for questioning.
Around the Web