An elderly Corentyne hardware store proprietor was discovered dead after bandits invaded his No.70 village home yesterday morning around 10:30 AM.
Dead is 79-year-old Abdul Majid. Majid was found in his store, located in the same yard, with his feet tied.  After he was found, he was rushed to the Skeldon Hospital where he was pronounced dead on arrival.
This latest death will pile pressure on the police to get a handle on the crime situation, days after another elderly Corentyne businessman was murdered.
Majid's wife was also terrorised by the bandits. The armed men robbed her of US$2000, $130,000 cash and approximately $800,000 worth in jewellery.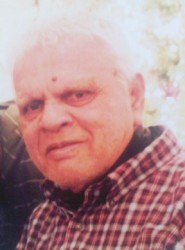 When Stabroek News visited the house, scores of villagers were seen offering condolences whilst a group of police headed by the Assistant Commissioner and Commander of 'B' Division, Brian Joseph were conducting investigations.
The widow, Kamrun Nesha Majid, 74, told this newspaper that on Saturday a man and two boys visited the store to purchase some screws. She added that every time her husband found a type of screw, the trio would make negative comments about it. She said she managed to alert her husband that the men looked like thieves and they then told the `customers' that they did not have the type of screw being sought.
The shocked woman said that yesterday morning, whilst they were having breakfast, someone rapped on their door and asked for something from the shop.  She noted that it was a usual occurrence as persons would normally call for "Uncle Majid".  The woman further explained that as she was feeling ill, her husband went to tend to the buyers, exiting through the backdoor.
She said about five minutes later, whilst in her kitchen she felt a hand around her neck and at the same time squeezing it. "When I turn around I see a …man with a cap on his head and a small …boy with him", she said.  The two demanded cash and jewellery and threatened that they would kill her if she didn't comply. The woman said she went into a room in the bottom flat and gave them cash. However, they continued to demand more money and jewellery. She said the duo told her "we hear this house get nuff gold and money" after she told them that there was no more.
She went on to say that the men continued to make threats to her and she told them that she would give them whatever else she had but they had to be patient with her since she was ill. She said the men carried her upstairs where she took out her jewellery and gave it to them along with the cash.
She added that after she gave them what she had upstairs, they still demanded more. "I tell them search and see if you gon find anything" she said.
The distressed woman further stated that they ransacked the entire upstairs including the bedrooms during their search.
She said before the half-hour ordeal ended, the younger man was still making threats to kill her but she begged for her life. She said that when the men collected what they robbed her of they tied her up. "They tie meh on the chair and put a cloth around my mouth", she said.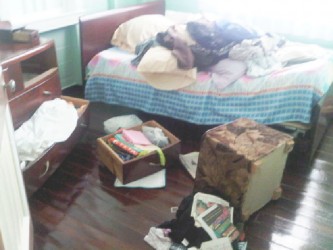 She said she then made an effort to raise an alarm for her husband to hear but to no avail. She then called out for an employee who was at the back of the yard, almost 250 feet away from the home, who heard her cries for help and went to her rescue.
After her rescue she and the employee hurriedly searched for her husband and found him inside the store bond motionless with blood oozing out of his mouth. She said she called a few relatives and they rushed her husband to the hospital. He was pronounced dead on arrival.
According to her there were no marks of violence on her husband but they found a rope next to him, and a bag left by the bandits. The bag is currently in police custody.
Suspects
According to the woman, approximately three months ago persons were seen liming around her home. She said the movements had evoked suspicions and she had reported the matter to the police. She added that nothing was done. She said that after the incident on Saturday she begged her husband to make a report to the police but he was unwilling.
Majid was a licensed firearm holder. He leaves to mourn his wife, two overseas-based children and grandchildren.
Majid's death has further shocked the Corentyne following last week's murder of miller Lallapersaud Jaggardeo from Number Nought Village.
Around the Web