A suspected bandit was shot dead and two others captured after a shootout with police at Kastev Housing Scheme, Meten-Meer-Zorg, West Coast Demerara, which was being staked out by the lawmen after a tip off about a planned robbery.
Up to late last evening, police had surrounded a burial ground in the community, where a fourth man, believed to be armed, was suspected to be hiding after eluding ranks for most of the day.
The dead man was identified as Kirk Bacchus of Paradise, East Coast Demerara and Crime Chief Seelall Persaud told Stabroek News that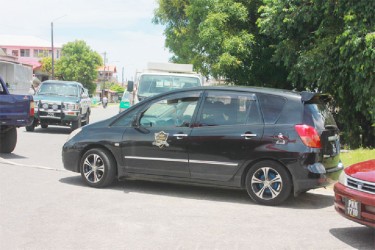 he and the other men have been linked to two other crimes, including the September 10 murder of businessman Zulficar Namdar, who was shot dead during a robbery at Meten-Meer-Zorg.
Persaud also said that Bacchus was wanted for the murder of Lakeram McKenzie, called 'Rambo,' which occurred in 2006. His brother, Ryan Bacchus, called 'Rattie,' had been charged but was found not guilty by a jury earlier this year. Like the dead Bacchus, the other three men with him were all said to be known to police.
Although a resident suggested that Bacchus may have been unarmed when he was shot, police came in for praise from residents after the shootout for their ability to hunt down some of the bandits who traded shots with them as they tried to escape.
In a statement on the events that led to the shooting, police said that acting on information received about a planned armed robbery, they staked out an area at Kastev Housing Scheme, Meten-Meer-Zorg.
Around 10 am, they said, two cars bearing number plates HB 7644 and PPP 9366, drove up and four men, two of whom were armed with handguns, exited the vehicles.
"The police ranks challenged the men who opened fired on them. The police returned fire fatally wounding Kirk Bacchus, of Paradise, ECD. A 9 mm pistol with two live rounds was recovered," the police said, while noting that two of the other men have been arrested and the motor vehicles seized.
"The fourth man, who is armed with a firearm, escaped and is being pursued by the police," the police added.
From all indications, following the confrontation at Kastev Housing Scheme, men split up and headed in different directions. Some headed towards the seawall, while some decided to run through the compound of the nearby primary school.
Somehow Bacchus ended up on "Tarla Dam," located some distance away, where he was confronted by police and shot dead. At the spot where Bacchus was killed, this newspaper noticed what appeared be to some sort of fuel spilled on the roadway. There were also bloodstains in the grass nearby.
'Two bullets'
After the shooting, a large crowd gathered at "Tarla Dam," where there was also a heavy police presence. Shortly after, a police vehicle was seen towing a taxi with bullet holes in the windscreen.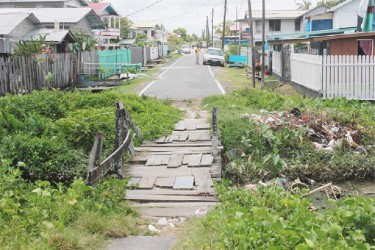 Stabroek News was told that this was the car that the ranks used to pursue two of the bandits, who had fled to Tarla Dam. During the exchange of gunfire, the vehicle was struck.
The majority of the residents in that part of Meten-Meer-Zorg refused to speak with reporters, while the few that did gave varying accounts of what had taken place.
A woman who asked not to be named said she heard "bullets go off" and when she ventured outside to investigate she saw black clothes policemen on the dam, about eight to nine feet away from a foot bridge that connects the dam to a small street in the area.
It would appear that some of the police caught up with Bacchus while other pursued another man who was seen speeding away on a bicycle.
"He [Bacchus] bin alive and dem turn he over and shoot am. Two bullets in he stomach," the visibly-terrified woman said.
She said the man on the bicycle had "a big gun" and he shot at the police as he fled. He stopped when he reached by the bridge, she noted, while adding that the one who was killed had no gun based on what she was told.
Bacchus at the time of his death was wearing a t-shirt with a Guyana Power and Light Inc (GPL) logo engraved on it giving the impression that he might have been posing as an employee of the utility company. Asked whether the man might have been in the area reading meters, the woman said that she was unsure. "Me nah really know. Me nah recognise he cause he hand bin over he face," she said.
Kastev Housing Scheme
Meanwhile, housing scheme residents recounted hearing gunshots (some gave the number as seven) and hiding out of fear. Teachers at the nursery school recalled shutting the doors to protect the children inside. The situation was more tense at the primary school nearby. "They jump into the [primary] school yard and the children them screaming and thing. They were trying to get away from the police," a resident said.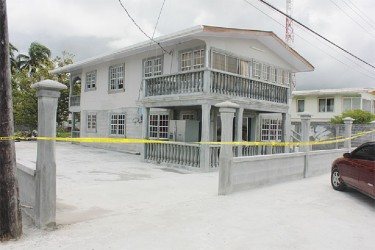 Another recalled seeing persons running. She said that at first she thought it was bandits fleeing but later learnt that it was police in plain clothes running after fleeing bandits.
The house that the police were reportedly staking out, according to Persaud, was under construction and after the intelligence unit received certain information, the ranks made arrangements.
At the time of the shooting, he said, no one was in the building.
Asked why the men would want to commit a robbery at a building under construction and which is also unoccupied, Persaud said that it was unclear.
Asked about the house which was cordoned off with police tape and had a uniformed rank guarding it, a resident said that the house is "business people place" and that the owner who, identified only as 'Sheriff,' is usually in the interior. Stabroek News was unable to make contact with him.
Linked
According Persaud, intelligence points to a link between the men held yesterday and the two recent attacks at Wakenaam and Meten-Meer-Zorg.
He told Stabroek News that "additional suspects" in these attacks have been detained. He also said that a 9 mm pistol and six rounds were recovered from one of the suspects, who is a boat operator.
Persaud said that over the weekend that ballistics tests confirmed that the same firearms were used during both incidents.
On September 7, an armed gang inflicted a severe beating on a Good Success, Wakenaam woman during a robbery at her home and later shot her father, Anand Danishore, in the hand as he arrived to assist after receiving her distressed telephone call.
Then on September 10, witnesses had recounted that about five gunmen invaded Namdar's Meten–Meer-Zorg shop and fatally shot him through the grillwork as he stood at the counter.
Shop help Stephen Mohammed, 17, was shot to his left thigh during the attack, while his mother, Fazila Namdar, who was holding her three-year old granddaughter, was also assaulted by the men who demanded cash and jewellery.
In both attacks, it is believed that as some point the gunmen fled in boats.
Around the Web