Police this afternoon issued a bulletin for a man they say is wanted in connection with the murder of Meten-Meer-Zorg businessman Zulficar Namdar.
Police say that Keifa Small called 'Frog Eye' is wanted by the police for questioning on the murder on September 10.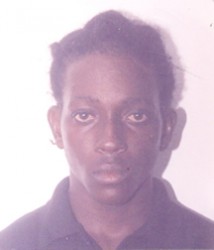 His last known address is 74 Campbellville Housing Scheme. Anyone with information that may lead to the arrest of  Keifa Small called 'Frog Eye' is asked to contact the police on telephone numbers 225-6411, 226-6978, 268-2298, 268-2222, 911 or the nearest police station.
Police yesterday intercepted a gang at Meten-Meer-Zorg it believes was responsible for Namdar's murder and other crimes. One man was killed and another capture. One of the bandits fled the scene.
Around the Web