A Fyrish lumberyard proprietrix was yesterday beaten and robbed by two men who visited the business place under the guise of customers and later escaped with an undisclosed sum of cash.
The incident occurred at 168 Courtland Road, Fyrish, Corentyne, Berbice, around 11:00 hrs. Up to press time no one had been taken into police custody. However during the hours after the robbery, police were conducting investigations. Stabroek News understands that lawmen were looking for a white car, which was said to have been used by the robbers.
Owner of business Chanmonie Soodoo, 47, related to Stabroek News that "two well-dressed men" entered her business place as customers. She explained they exited a white car which was driven by one of them. She added that when the men approached her, one presented her with an estimate.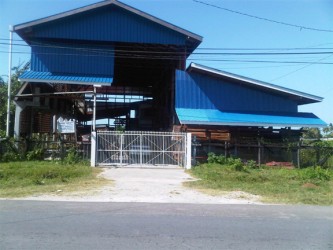 Soodoo said that as she was going into her bottom flat for a calculator, she felt an impact and was ordered to go into her house. She added that one of the men grabbed her in a hugging position and squeezed her neck tightly.
As they passed through her kitchen, the man squeezing her neck armed himself with one of her knives.
Soodoo said she was forced upstairs where the men demanded cash and jewellery. Fearing for her life, the woman said, she handed the men an unknown sum of money. However, they demanded more money and jewellery. Soodoo said she told them she did not have any other valuables, and the second man began to ransack one of the bedrooms in the home.
At that point, Soodoo said, the man who was holding her neck was about to "bore me" with the knife. She defended herself by biting the man who dropped the knife. As he scrambled to retrieve it, she said, he injured his hand. She said the man then proceeded to cuff and kick her about her body.
The woman said the men then escaped and drove off in their car. She also stated before the second man ransacked the room, he had put on gloves.
Soodoo, who was still hoarse from being choked, said her ordeal lasted some 15 minutes and the men who were not masked appeared to be in their late 20s or early 30s. The businesswoman had never seen them before.
According to her this was the first time she was attacked by bandits since she established her business approximately eight years ago.
Police investigations are continuing.
Around the Web