A security guard who was allegedly found selling drugs in a sting operation by the Customs Anti-Narcotics Unit (CANU) on Monday night was yesterday refused bail when he appeared at the Georgetown Magistrates' Court.
Ravindra Rowtie, 29, of Lot 188 D' Andrade Street, Kitty, was yesterday arraigned on two counts of possession of narcotics before Chief Magistrate Priya Sewnarine-Beharry. He pleaded not guilty.
CANU prosecutor Oswald Massiah told the court that acting on information a group of CANU officers staked out Medicare Pharmacy in Hincks Street where the accused was on duty. There is a guard hut at the location, he said, and the defendant was observed frequenting the guard hut after he would have spoken to persons.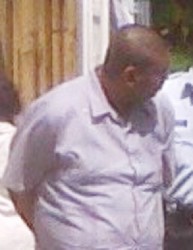 The officers swooped in, identified themselves and conducted a search of the hut. Massiah said they found a calabash containing 8 Ziploc bags with suspected cannabis. A further search, he said, unearthed another calabash with suspected cannabis resin (Hashish). The CANU officers also searched the accused and reportedly found $80,860 and US$110, suspected to be from the sale of the illicit drug.
The drugs were weighed and found to be 1.2 grammes and 14 grammes respectively.
After the discovery of the narcotics and money Rowtie allegedly told the CANU officers 'is a lil hussle I am doing', according to Massiah.
He later took the officers to his home. However when they got there his mother said that he does not reside there. She provided another address, but he refused to take the officers to that address, Massiah told the court.
Defense counsel Latchmi Rahamat, who made a bail application for the accused, told the court that her client has nothing to hide. "My client is not the only one who uses the guard hut where the drug were found, Your Worship, and the drugs were not found on my client," she said. She added that it is not illegal to have large sums of money. Rahamat indicated to the court that her client is the holder of a Guyana passport and was willing to have it lodged, as she pleaded with the magistrate to grant her client reasonable bail.
Massiah objected to bail on the grounds that there is no certainty of where Rowtie lives and by virtue of his actions he is homeless. In the event that bail is granted he will not return to stand trial, Massiah said.
Bail was refused.
Around the Web