Three New York-based members of the Alliance For Change (AFC) have switched their support to main opposition coalition A Partnership for National Unity (APNU),
Economist Dr Tarron Khemraj, who along with businessman Rab Mukraj and Political Science Professor Asquith Rose, has left the AFC's New York chapter, said that the party has been suffering from "self-inflicted wounds" for a long time. "I feel I have done what I could do for the AFC… Now I would like to be a part of something that can vehicle bigger visions to bring about national unity and national and human development," Khemraj told Stabroek News in an interview from New York yesterday.
AFC leader Khemraj Ramjattan, who was caught unaware of the departures, said it was "disappointing" news, while saying that the party would respect its former members' decisions and try to move ahead.  Last week, US-based financier Shamir Ally also tendered his resignation from the party.
Efforts to contact Rose, Mukraj and Ally for comment proved futile.
News of their leave was made public by APNU, which yesterday announced that the four had held talks with the coalition's leader David Granger and APNU MP Joseph Harmon. "The two sides examined the current economic, political and social situation in Guyana and concluded that a broad 'pro-Guyana' approach was needed to stimulate movement towards the attainment of their common objectives. They agreed to work together to build structures to improve governance, promote national unity and advance human development," an APNU release stated.
Ramjattan said that while he was aware of Ally's departure, he was not aware that Khemraj, Mukraj and Rose had also left. He expressed disbelief at the development. "You know, that is news to me… I don't know about it but whatever it is, this party has had some problems with the New York chapter and has recognised a resignation… It is very disappointing, very unfortunate that there has been a fall-out of those members from that overseas group," he said.  "This is a democratic liberal party. We respect their decision and if they want to go and join the APNU, that's very unfortunate for us but we just continue the journey. We have to pick up, dust ourselves and move on," he added.
Ramjattan hinted that the move was possibly due to the party's support for the Amalia Hydropower Project. "They had indicated, very clearly to us, that we ought not to have sent the Amaila project to the IDB for due diligence and it is rather surprising that that may have caused that kind of thing. I know they have had very serious objections to the Alliance For Change doing as it did," he said.
The AFC has come under fire recently over its failure to public announce the association of party Chairman Nigel Hughes with Amaila Falls Hydro Inc (AFHI), the local company set up to pilot the controversial Amaila Falls hydropower project. Hughes served as AFHI's Company Secretary, while his wife and AFC MP Cathy Hughes worked as a public relations consultant for the project's developer, Sithe Global.   Adding fuel to the criticism was the party's decision to support the Amaila-related measures in the National Assembly, although the AFC has assured that the Hugheses at no time used their positions to further their personal agendas. The AFC has faced the criticism that the situation amounted to a conflict of interest and the party recently apologised for failing to disclose the link in a timely manner, calling it "a critical lapse" in duty.
Ramjattan yesterday stressed that the exit of every member affects the party and while it was not what the leadership wants, it accepts the choices of individuals given that the party stands as a democracy where persons know they are free to change their minds whenever they feel free. Nonetheless, he said he would still make contact with the New York chapter, informing them of his disappointment and advising that whichever party they go to that there will be disagreements of views.
Meanwhile, Khemraj said that the party was notified of his transition by way of email. "I indicated to friends through an email that I will be leaving," he said.
He would not go into detail about the decision to leave the AFC but said that the party "has been facing a lot of self-inflicted wounds for a long time."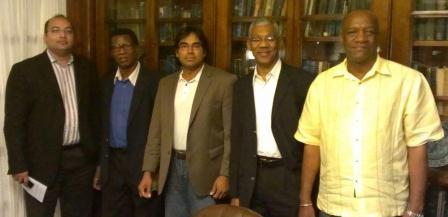 He added that he was impressed with APNU's vision for Guyana. "The APNU has done many things. They have led the call for constitutional reform. I really appreciate that…," he said, while adding that the coalition's leaders are elected instead of selected, which holds firm to democratic principles.
He also lauded Granger's call for the investigation of crimes on the East Coast and emphasised in particular that APNU "really saved the country a lot of money" by its handling of the Amaila hydropower issue. "They have really done that well… their fingers on the right buttons these past years and they value, really value intellectual technical voices. It is clear to me that they will be open (to opinions)," he went on.
Khemraj said that he wanted to make clear that his decision was not a personal one as he believes that being an opposition supporter has no material benefits. He also said that he remains friends with and has great respect for many persons on the AFC executive.
Around the Web