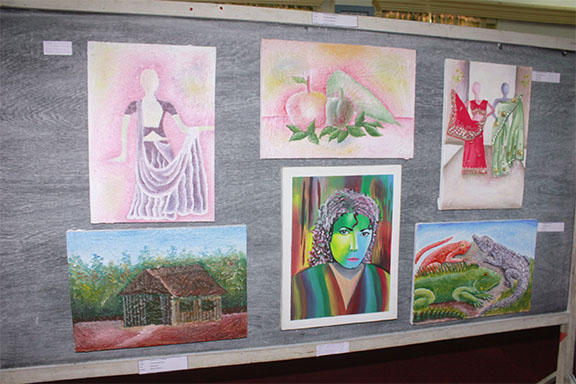 The Parent/Teachers Association (PTA) and other stakeholders of St Rose's High School and St Agnes Primary School on Tuesday reached an agreement on how to utilise the space shared by the students of both schools.
Education Minister Priya Manickchand met the PTA, staff and board members to consider measures that would be in the best interest of all the children, the ministry said in a press release. The meeting was convened with regard to government's plan to build six additional classrooms for usage by the St Agnes Primary. Six classrooms from the said school will be housed temporarily at St Angela's Primary and St Ambrose Primary until the construction has been completed.
A section of the art on display which was done by schoolchildren
The parties engaged in robust discussions on the matter, prompting the minister to caution them against displaying unwholesome behaviour that could have an adverse effect on the children, the release said. Manickchand however, was pleased that the parties were able to reach an amicable agreement.
Around the Web