In wake of recent defections, AFC Chairman Nigel Hughes yesterday insisted that the party remains both cohesive and committed to the struggle for a better Guyana.
"While the party is disappointed with how the issue was handled we remain focused and dedicated to the struggle for the true democratisation of Guyana," Hughes said in a statement issued yesterday, a day after the disclosure that three New York-based members have switched their support to main opposition coalition APNU.
Economist Dr Tarron Khemraj, businessman Rab Mukraj and Political Science Professor Asquith Rose left the AFC's New York chapter, with Khemraj saying that the party has been suffering from "self-inflicted wounds" for a long time. The news came a week after US-based financier Shamir Ally also tendered his resignation from the party.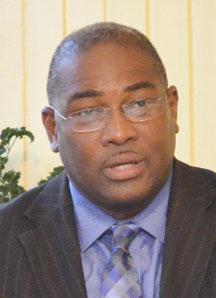 In a statement released last evening, Hughes noted that some members have expressed their disaffection with the party and some have opted to relinquish ties with the party. Nonetheless, he said the party wished to thank them for their unyielding support and dedicated work in the struggle for a better and just Guyana. The party will remain "forever grateful" to them and wishes them well in their future endeavours, he added.
Hughes, at the centre of recent criticism of the party over its failure to disclose his involvement with Amaila Falls Hydro Inc (AFHI), the local company set up to pilot the controversial Amaila Falls hydropower project, said that the AFC remains "cohesive and committed" to the struggle for a better country.
"Unity, equality and equal opportunity remain at the core of our party's central philosophy," he said, while assuring of the party's "dedication to the struggle for a just and equal Guyana."
Hughes served as AFHI's Company Secretary, while his wife and AFC MP Cathy Hughes worked as a public relations consultant for the project's developer, Sithe Global, and their roles have generated concerns over potential conflicts of interest.
The AFC recently apologised for failing to disclose the link in a timely manner, calling it "a critical lapse" in duty.
The party's decision to support the Amaila-related measures in the National Assembly—a reversal of a previous vote—also led to criticism although the party assured that the Hugheses at no time used their positions to further their personal agendas. The handling of this issue is believed to have significantly contributed to the recent defections.
Hughes, however, said that significant gains have been made both in the National Assembly and in the hearts and minds of Guyanese. "While there have been some expected vocal criticisms from some political corners, all across Guyana the people have recognised and commended the AFC for standing on the side of principle and in the best interest of all Guyanese," he said, while adding that the party stands for a Guyana which is just, fair and offers everyone an equal opportunity to participate equally in a nation's development.
He added that the AFC is a party that encourages robust debate on every issue and has always taken independent decisions in the best interest of all Guyanese. "We believe this is only way a party which is truly committed to a Guyana which is fair just and equitable, can develop," he said.
"There can be no compromise on a Guyana which holds its leaders accountable for their actions and a Guyana in which its constitution guarantees all its people participation in and consideration of its views in all the decision making fora of the state including the executive," he added.
On Wednesday, Khemraj told Stabroek News that his decision was not a personal one as he believes that being an opposition supporter has no material benefits. He also said that he remains friends with and has great respect for many persons on the AFC executive.
He would not go into detail about the decision to leave the AFC but said that the party "has been facing a lot of self-inflicted wounds for a long time," while adding that he was impressed with APNU's vision for Guyana. "I feel I have done what I could do for the AFC… Now I would like to be a part of something that can vehicle bigger visions to bring about national unity and national and human development," he further said.
Around the Web